Mobile Video Poker
Game
Deuces Wild Poker on Mobile
Where to Play Deuces Wild Poker
Deuces Wild Poker Mobile Video Poker Game

Deuces Wild Poker is the second edition of Microgaming's video poker varietal which introduces the concept of multi-level poker. The game revolves around progressing from one level to the next by securing wins via strong poker hands. The higher players progress in Deuces Wild the greater the rewards on offer with up to 60 000 available to take home.
Deuces Wild is now available on mobile and is compatible with the majority of Android, tablet and Apple devices on the market. Simple to download and offering easy-to-read graphics and sharp sound, Deuces Wild mobile version allows players to win from wherever they are. Whether you are on a long distance journey or merely waiting in a line, Deuces Wild will offer action-packed and rewarding gameplay.
The game provides players with ample opportunities to win large jackpots and can offer up to 8x your initial bet. Deuces Wild also includes a bonus feature in the form of Gamble, where you have the chance to double your winnings.
With hours of entertainment and potential rewards on offer, Deuces Wild is an outstanding way to win and have fun at the same time.
How to Play Deuces Wild Poker
Players can bet from 0.10 to 1.00, with a maximum bet of 20.00 available. The game is played with separate 52 card decks for each of the four levels. You can secure a win and progress through the levels by being awarded for strong hands which are based on original poker hands such as jacks or better, three of a kind, flush, a straight and a royal flush.
Players will be given the opportunity to hold or discard cards of their original hand of five. Once you have done this the strength of your hand will determine whether or not you have progressed to the next level. Hand strength is based on the game's paytable, where Jacks or Better awards the lowest amount and Royal Flush the highest.
If you reach the 4th level your initial bet can be multiplied by up to 8x, with a Royal flush providing 4000 coins on the maximum bet of 20.00. Players are encouraged to bet high as the game can be very rewarding due to its multipliers and multi-level approach.
Jackpots and Progressives
The table top game offers a jackpot of 4000 coins on the maximum bet, but this can be enhanced by the generous multipliers which are triggered as you move up through the levels. As much as 60 000 is on offer if players are lucky enough to hit the jackpot with a high 8x multiplier.
Bonus and Signups
The game's bonus feature is a randomly triggered Gamble feature which gives players the chance to choose a higher card in order to double their initial winnings. The Gamble feature will add up to 3200.00 to players' winnings.
Game Screenshots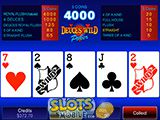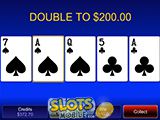 Where to Play Deuces Wild Poker
You might also be interested in these articles