Mobile Video Poker
Game
Aces and Eights Poker on Mobile
Home
> Aces and Eights Poker
Where to Play Aces and Eights Poker
Aces and Eights Poker Mobile Video Poker Game

Microgaming has revealed its latest addition to their Video Poker portfolio in the form of Aces and Eights Video Poker. With an exciting jackpot the Single Deck 52-card game enhances winning capabilities and offers players with impressive graphics, substantial pay-tables and simple game-play mechanics. True to the tradition of the majority of Microgaming's titles, Aces and Eights will not disappoint video poker fans and promises a rewarding experience.
Expect to be enthralled by the game's Jackpots with up to 20 000.00 being made available on the maximum bet of 25.00. Aces and Eights strives to set a new standard in Video Poker games and runs on the innovative Viper software platform, which helps with determining odds and giving cover permutations. The software is designed to benefit gamer's winning potential and helps you to make the right decision during each round and hand.
The Viper software also allows players to set "stop" budgets in terms of their win amounts, lose amounts or overall credit balance. This benefits players who want to set a limit on their spending when enjoying a game of Video Poker. The Viper Software coupled with a popular and enticing high pay-off percentage, means Aces and Eights will definitely please Video Poker fans.
A game of skill and luck, Aces and Eights requires players to test their nerve and choose their own way to win. With easy-to-read payout tables and a chance to double your winnings via the double up feature, Aces and Eight promises a memorable experience.
How to Play Aces and Eights Video Poker
Aces and Eights is a variation of the classic Jacks or Better Video Poker. Players can adopt the Aces and Eights strategy when playing this form of Video Poker, which is simple to use and learn. Players can draw up to 5 cards a round to supplement their hands and pay-offs are determined according to your hand, with a Royal Flush giving the highest amount and Jacks or Better awarding the lowest. The game also has high payouts if your hand consists of Four of a Kind, (Aces and Eights), Four of a Kind (Sevens) and Four of a Kind (all others).
Bet between 1 to 5 coins per hand ranging from 0.25 to 5.00 in order to get your game started and decide which cards to play with by discarding or holding each card in your initial hand. Select draw to add to your initial hand and the game's paytables will determine your winnings at the end of each round. The higher your bet, the greater your chances of hitting the jackpot.
Jackpots & Progressives
Aces and Eights strongest feature is its offer of some major jackpots with up 4000 coins being awarded if five coins are bet. If a player makes the maximum bet of 25.00 up to 20 000.00 can be won.
Bonuses
Aces and Spades provides payout bonuses when players find four of a kind Aces, Eights, and Sevens in their hands.
Game Screenshots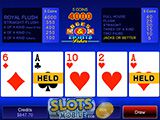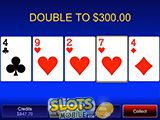 Where to Play Aces and Eights Poker
You might also be interested in these articles