Mobile Table Games
Games
mFortune Texas Hold'em Poker on Mobile
Home
> mFortune Texas Hold'em Poker
Where to Play mFortune Texas Hold'em Poker
mFortune Texas Hold'em Poker Mobile Table Game

Texas Hold 'em just happens to be one of the most popularly played variations of poker in the world. What makes the mFORTUNE version of this game so special is that it is specific to gaming on the go. That's right…this is mobile Texas Hold'em, with tables operating round the clock – 24/7, 365 days a year – even Christmas and New Year. This means that the mobile player gets to enjoy this game anytime, anywhere, and from just about any type of mobile phone. No matter the level of experience, there will be a seat waiting for you – apps are installed for free.
This firm is licensed and located in the UK, aiming for the Smartphones to Tablet device mobile market. This includes but is not limited to iPad, iPhone (naturally), Android and Java Mobile Phone users can. Apple users play by means of an instant Java Safari Browser version. They guarantee that 99% of all phone models support their software. It is multiplayer poker, only playable with this brand which is not part of a large poker network.
How To play mFortune Hold'em Poker
It is also very fortunate that Texas Hold'em is one of the easiest variations of poker to learn how to play. This simplicity contributes to its popularity, and makes it an easy game for newbies to grasp. It is a community poker game which on this platform can be played for free in order to practice, and learn, then played later for real money. If you want to learn how to play, we suggest you get learning for free right away.
Rake percentage is 5% without a cap, and Texas Hold'em heads-up can be played with five or eight players per table. Cash games are played with blind levels of £0.10/£0.20, £0.5/£1.00, and £2.00/£4.00.
Benefits, Prizes And Jackpots
There are also private tables for playing with friends, in an independent poker room, where a £100 instant first deposit bonus is available in a risk-free playing environment. It offers links to a Facebook Community and is more than a mere poker room. There are regular reload and loyalty bonuses available, and many more features to help players enjoy this game even more. Not only that, but a £5 Free No Deposit Bonus allows new members to try before they buy.
Do join the Facebook community, not only to chat with other players, but to also take part in contests or tournament, there is always something up mFORTUNE's sleeve to ensure that its members are well taken care of. You will find no multi-tabling however, and the only game is mobile Texas Hold'em, s, we also find lower traffic, which means lower liquidity.
Summary mFortune Mobile Texas Hold'em
Much like an online poker room, but only for mobile players, mFORTUNE has a great deal going for the player who like their poker on the move. These games are guaranteed to be able to play on 99% of all smartphone handsets, as well as Apple iPhones, iPads, Android tablets and so on. It is a basic poker app, but with great graphics, and some rather special starting offers.
Game Screenshots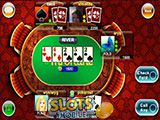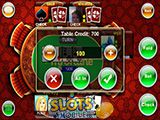 Where to Play mFortune Texas Hold'em Poker
You might also be interested in these articles