Mobile Table Games
Games
mFortune European Roulette on Mobile
Home
> mFortune European Roulette
Where to Play mFortune European Roulette
mFortune European Roulette Mobile Table Game

The mFortune Mobile Casino is part of a whole host of games which are designed specifically for a mobile platform. This is not cross platform software; it fills a special need in a very special niche. This exclusive design, now allows us to use our smart phone or other mobile device to play European Roulette. This is the proverbial classic casino game, now available to be played on your Apple or Android mobile device or handset. There has been a marked demand for mobile gaming, and what separates UK-based mFortune.co.uk from the rest of the crowd climbing onto this bandwagon, is their platform has been developed with only the mobile end-user in mind.
How To Play mFortune European Roulette
While there might appear to be many bets and ways to bet when we play roulette, it is actually not a difficult game to play. A wheel spins the numbers, and we place a corresponding wager on the mat, in the section where we believe we have the best chance to win. The same applies to this mobile app, although the software is modular and game-centric, so players get to choose what games they would like, rather than downloading the entire casino. It is also optimized specifically for the mobile device.
It is just a matter of registering an account, downloading the software, making a deposit, and then playing. European Roulette from this mobile operator can also be played for free in demo mode, so rather than telling you how to play, we suggest you get the free app, download it and play for free first, until you feel ready to move on to real money games.
European Roulette is one of the sharpest looking games in this line-up, allowing wagers of 10p to £5. The wheel action is surprisingly seamless and graphics are great, even for displays as small as an iPhone screen. The betting grid is found in a separate window, and features a scrolling tool to assist players chose the wager they want.
Benefits Prizes And Jackpots
All prizes are awarded on the basis of a roulette odds chart – this can be found in the pay-tables section of the game. Place the wager accordingly, and win according to the size of the bet, multiplied by the odds. There is no extra jackpot or progressive jackpot prizes generally assigned to a game of roulette, but who knows what could happen given time. There are other benefits of playing roulette with mFortune however, and these include, but are not limited to a free £5 with no deposit required, and a 100% cash match bonus for making a first deposit.
Summary mFortune Mobile Roulette
Graphically this mobile classic casino game cannot be faulted, the development team has done a great job. With wagers from as low as 10p and only going up to £5, it also won't break the bank, although high rollers might have a problem with this. All we can say is give it a try in demo mode, you have absolutely nothing to lose.
Game Screenshots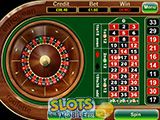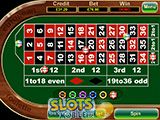 Where to Play mFortune European Roulette
You might also be interested in these articles