Mobile Table Games
Games
mFortune Blackjack on Mobile
Home
> mFortune Blackjack
Where to Play mFortune Blackjack
mFortune Blackjack Mobile Table Game

One of the first real money blackjack game built for mobile, mFortune Blackjack is a game that any blackjack lover will enjoy. Working on 99% of all mobile phones and tablets, there's a huge chance that you will not need to change your phone in order to play it: the game works with Android, iOS, RIM Blackberry and old feature phones that most operators don't even bother developing for.
How to play
The game is very similar to the European Blackjack, with very small deviations from the regular game. Like in every blackjack game, the aim is to reach 21. You can claim insurance on dealer's blackjack and this pays 2 to 1. The small difference from the standard American Blackjack is that in European Blackjack the dealer doesn't deal himself the second card right after they deal the second card on every box. Instead, every box in the game can draw a card until they reach the desired hand or over 21 and right after that the dealer will get a second card. This game is loved by players more in real casinos as they have more control over what card the dealer will get as a second card by drawing or not additional cards themselves.
Jackpots & Progressives
As a regular Blackjack game, mFortune Blackjack doesn't have a regular or progressive jackpot, but blackjack players usually have a more mathematic approach towards gambling, so this has never been a problem for them.
Bonus and Signups
One of the best part with mFortune is the big amounts of bonus they give away. Once you sign-up, you get a 5 GBP/USD/Euro for free without any need to make a deposit. The great thing with this no deposit bonus is that in order to withdraw you don't need to make a deposit, all you have to do is win. To put things clearer, whatever you win over the 5 free you can withdraw up to 200 GBP. Once you deposit, you get a great 100% up to 100 GBP/USD/Euro bonus that you can play with instantly. mFortune didn't forget reloads either, giving a 10% up to 100 GBP/USD/Euro bonus on every reload you make.
Other bonuses include a 3 GPB/USD/Euro free just to like their facebook page, weekly bonuses for stakes and deposits and a Loyalty Shop.
Summary
For anyone that would like to play Blackjack on their mobile or tablet, mFortune Blackjack seems like the perfect choise. With bets starting as low as 0.10 GBP/USD/Euro, even if you are not an avid Blackjack player, it's worth giving a try at least just to see why this game is so popular around the world.
Game Screenshots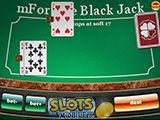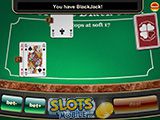 Where to Play mFortune Blackjack
You might also be interested in these articles