Mobile Table Games
Games
European Blackjack Gold on Mobile
Home
> European Blackjack Gold
Where to Play European Blackjack Gold
European Blackjack Gold Mobile Table Game

European BlackJack is a variation of the game that has turned into the most popular form of it in the world. Played at just about any casino, it offers player friendly rules and payout odds. Golden series of various table games were actually introduced by MicroGaming and is now a part of all their offerings. It stand out by improved graphics, animations and sounds all of whom are also added to the newly introduced mobile version of this game series.
So why is European variation of this game so popular, when compared to other ones? For starters, the payout odds are highest you'll find. A natural hand of BlackJack pays out at 3 to 2 odds, while insurance will reward you with a 2 to 1 payout, should the dealer hit a natural hand of BlackJack, when starting with an ace.
There also are a couple of pretty player favorable rules, such as double on any two cards, surrendering as well as doubling after a hand has been split.
This European version isn't unique in any way at all, but what is like that are the graphical aspects of this particular variation. It comes off as a more elite variation of the game, one that can be experienced in a live, land based variation of the game.
How To Play European BlackJack Gold
The mobile version for European BlackJack Gold is played exactly the same way as the standard, computer variation. One and only significant change is that you can play this variation regardless of your location, on the go by using your mobile device. Gameplay wise, it does not change all that much though. So how hard is it to actually play this game and how exactly is it done? Refer to the throughout description below.
To start the gameplay, you will first have to decide on the size of your next wager. While the table features 5 betting boxes, you can only play on 1 of the. Navigate through the coin denominations using two arrows that will be located on the left side of your screen.
Placing a bet is done by simply tapping over the middle betting box, which will lead to a single chip of your chosen denomination being placed.
Once your hand is dealt, you'll be offered to choose between up to 4 ways to play the hand:
Hit – take another card
Stand – do not take another card.
Double – increase your wager two times and take only one card.
Split – if your hand consists of 2 cards that are of the same value, you can split them and play each as a separate hand. Note that only one card can be taken, when splitting aces.
Overall European BlackJack Gold is a solid choice for anyone who is looking to gamble this game on his mobile device. It's available at all MicroGaming powered casinos and compatible with almost any mobile platform.
Game Screenshots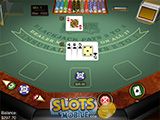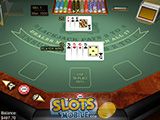 Where to Play European Blackjack Gold
You might also be interested in these articles