Mobile
Table Games
Mobile Phone Table Games
Home
> Mobile Table Games

The first mobile casino was launched in 2004 by the leading casino software provider, Microgaming. Mobile technology has continued to develop as it has become apparent just how popular mobile devices are with people. These mobile devices have become far more than communication devices and they are now used for entertainment, as well as many other purposes. Online casinos now offer mobile versions of their casino to allow their players the convenience of playing mobile table games such as blackjack, roulette and poker on the go, wherever they are.
Featured Table Game Casinos
Royal Vegas Casino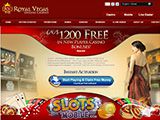 Bonus: $1200
Royal Vegas combines all the excitement of a real-time online casino and the possibilities of mobile gaming in its Mobile casino offering. The Fortune Lounge Group affiliate promises a secure and feature-packed mobile casino which utilises only the latest technology and offers state-of-the-art game-play.
Hand-held casinos give players the opportunity to play their favourite games from anywhere and Royal Vegas does not disappoint with a range of enthralling and popular games. With Microgaming at the helm of all game development players can expect top of the range video slots, table top games and progressive jackpots combined with an array of promotions.
mFortune Casino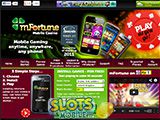 Bonus: $100
The mFortune mobile casino is an award winning mobile casino that has established itself as the largest mobile casino in the UK. It has been developed by Intouch Games Ltd., and is licensed by the UK Gambling Commission. This mobile casino accepts players from the USA.
The mFortune mobile casino is powered by proprietary software that gives it a number of exciting features, including a superior gaming experience, live chat rooms, great games, and more. An amazing player-friendly user interface is the first step towards a superlative mobile gaming experience at this casino. This mobile casino boasts of an amazing statistic: compatibility with 99% of all mobile phones: you can access it from a range of Android devices, iPhones, iPads, Blackberry phones, Windows phones, and also Nokia handsets.
The mFortune mobile casino also boasts of an array of exciting games that you can play in free mode or real money mode: slots, video poker, table games, bingo, and more. To play for real money, you have to deposit funds into your mobile casino account. The deposit options supported include credit/debit cards, UKash, and paying through your phone bill. Withdrawal options include checks and bank transfer. And finally, you get excellent customer support as well at this mobile casino, primarily through telephone and e-mail. There is also a call-back option available.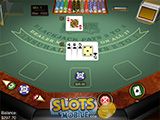 European Blackjack Gold Mobile Table Game
European BlackJack is a variation of the game that has turned into the most popular form of it in the world. Played at just about any casino, it offers player friendly rules and payout odds. Golden series of various table games were actually introduced by MicroGaming and is now a part of all their offerings. It stand out by improved graphics, animations and sounds all of whom are also added to the newly introduced mobile version of this game series.
Play European Blackjack Gold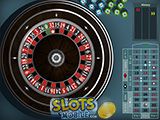 European Roulette Gold Mobile Table Game
Microgaming's European Roulette Gold set new standards in table top game-play when it was initially released. European Roulette Gold has been adapted to mobile devices and offers a feature-driven experience which focuses on enhancing the original popular game of Roulette. The added betting features include a Neighbour betting track and a Call Bets feature, with both adding to the overall Roulette experience and convenience level. The game can be sped up, offers different betting denominations and can be put on Auto play mode which completes an already formidable package.
Play European Roulette Gold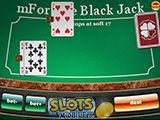 mFortune Blackjack Mobile Table Game
One of the first real money blackjack game built for mobile, mFortune Blackjack is a game that any blackjack lover will enjoy. Working on 99% of all mobile phones and tablets, there's a huge chance that you will not need to change your phone in order to play it: the game works with Android, iOS, RIM Blackberry and old feature phones that most operators don't even bother developing for.
Play mFortune Blackjack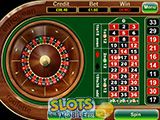 mFortune European Roulette Mobile Table Game
The mFortune Mobile Casino is part of a whole host of games which are designed specifically for a mobile platform. This is not cross platform software; it fills a special need in a very special niche. This exclusive design, now allows us to use our smart phone or other mobile device to play European Roulette. This is the proverbial classic casino game, now available to be played on your Apple or Android mobile device or handset.
Play mFortune European Roulette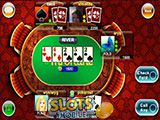 mFortune Texas Hold'em Poker Mobile Table Game
Texas Hold 'em just happens to be one of the most popularly played variations of poker in the world. What makes the mFORTUNE version of this game so special is that it is specific to gaming on the go. That's right…this is mobile Texas Hold'em, with tables operating round the clock – 24/7, 365 days a year – even Christmas and New Year. This means that the mobile player gets to enjoy this game anytime, anywhere, and from just about any type of mobile phone. No matter the level of experience, there will be a seat waiting for you – apps are installed for free.
Play mFortune Texas Hold'em Poker
More Information
While the games suite at a mobile casino is significantly smaller than their online casino, they offer a range of some of their most popular game options. These include table games, video poker, slots and progressive games. The casino also adds games to its mobile suites on a regular basis in order to increase their offering. The software is developed specifically for mobile technology and offers many features that improve the gaming experience. Touch screen technology allows you to become more involved in the game and play with speed, with one tap of your finger. Games are also able to re-size to the screen of your mobile device. The games can often be played on a wide range of mobile devices, including smartphones and tablets via Apple, Android, Blackberry and Windows.
Advantages of Playing Mobile Table Games
Playing casino table games via a mobile device gives you added convenience and flexibility, as well as increased access to your favorite games. You can play games wherever you are, at any time. The games are customized for mobile devices, ensuring that the screen size and graphics are ideal for your mobile device. They also use touch screen technology which allows you fast play, with the touch of your finger. While there are not many mobile table games available, software providers ensure that some of their best games can be played, primarily blackjack and roulette games. Casino gaming has never been simpler, more convenient or more accessible than it is with mobile technology.
Mobile Table Games from Major Software Developers
While mobile games suites are made up primarily of slots games, the major software providers in the industry have all developed a range of table games specifically for mobile. These include a range of the most popular online casino table games, developed specifically for their mobile casinos.
Microgaming offers more than 20 casino games at their mobile casinos. They do not have a large selection of card and table games available, although what they do have is top quality with impressive features and graphics. These include popular titles such as classic blackjack, baccarat, 3 card poker and single zero (European) roulette.
Playtech offers a range of mobile casino games available on iPhone and Android mobile devices. Table games include classic blackjack, baccarat and roulette.
Betsoft Gaming specializes in 3D casino games, particularly slots games; however they do offer a full suite of mobile casino games and this includes two table games. The two mobile table games from Betsoft include 3D Las Vegas Strip blackjack and 3D roulette.