Mobile Slots
Games
Witchcraft Academy on Mobile
Home
> Witchcraft Academy
| | |
| --- | --- |
| Provider: | NetEnt |
| Paylines: | 20 |
| Scatter Symbol: | Yes |
| Jackpot: | Yes |
| | |
Where to Play Witchcraft Academy
Witchcraft Academy Mobile Slot Review

Given the sheer popularity of Harry Potter, we're surprised we haven't seen anyone try and seize on that popularity with slots. Perhaps it was simply because the franchise was aimed at children and the author wasn't particularly thrilled with seeing her product on the cover of a gambling video game. Whatever the case is, the kids that grew up with Harry Potter are now adults with their own shares of vices, so it's really not surprising to see that NetEnt decided to settle for the next best thing to capitalize on the popularity of the young wizards and witches in a far away academy deal – and that's to make their own that draws inspiration. Instead of Harry, Ron and Hermione, you have Earthan the Wizard and Efora the Witch. Not nearly as catchy or memorable as far as names go, but the bonuses they can bring will capture your attention a lot more.
Witchcraft Academy offers gamblers a 5×4 playing field with 20 fixed paylines, as well as several special features to draw you into this world of wizardry and magic. There are two special features, though they are tied with one another, so you can't win one without the other. Collecting three or more Scatters will trigger the Elements Bonus, in which our two heroes sneak into the mysterious dungeon to uncover the castle's secrets. Within, they find a different 5×4 reel, populated by Coin Win symbols, Armour Guard icons and several Scatter symbols that represent the various bonuses you can pick up here. You can choose either Earthan or Efora to cast their spells on the reels, which will fire one to four magical shots at a random area, which can reward cash prizes, the armour can blow up to uncover more symbols around it, and if you collect three or more Scatters during the Elements Bonus, you uncover the free spins alongside all of its many unlockable special features.
How to Play Witchcraft Academy
We're certain people would be more shocked to hear NetEnt made a bad looking game, specifically because that's a remarkably rare thing. Witchcraft Academy does not disappoint either, as everything is shown in loving detail, from the unique symbols, to the animated backdrop which will display ghosts flying by, floating brooms and ticking grandfather clocks, not to mention how every winning combination will draw your attention not just for the cash flow, but the fact every symbol has a small animation to celebrate the win.It's usually something minor, but it's a nice touch.
Having spent some time playing the title, we were pleasantly surprised with the gameplay on offer. Wilds, at least in our experience, were relatively frequent, though not enough to stop you from losing money. On average, you'll probably slowly bleed the cash until a feature arrives, and given the medium to high volatility of Witchcraft Academy, you might find yourself waiting for a while.
Jackpots & Progressives
There's no progressive jackpot in Witchcraft Academy. In fact, a lot of the juicy wins are very unlikely to occur without the help of the two special features the title offers. The wins you receive from uncovering armours and cash prizes during the Elements Bonus are random, but capped at a certain point, but if you succeed in activating the free spins afterwards, you'll find yourself swimming in cash unless you had some really rotten luck. What really helps make it happen are the many free spins bonuses that occur when they are activated.
Bonus Games & Sign-ups
All four Scatters and their bonuses are on the fourth reel during the Elements bonus. Depending on which ones you uncover, you can have the first or fifth reel flooded with Wilds, a 2x multiplier or an additional 5 free spins. You start with five free spins and all of those bonuses, and you have the chance of winning more extra turns by collect two or more bonus spin symbols.
Game Screenshots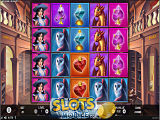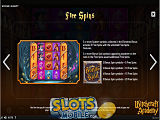 Where to Play Witchcraft Academy
You might also be interested in these articles