Mobile Slots
Games
Wild Scarabs on Mobile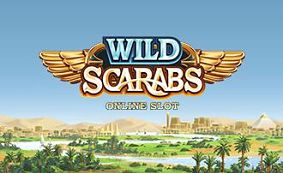 | | |
| --- | --- |
| Provider: | Microgaming |
| Paylines: | 243 |
| Scatter Symbol: | Yes |
| Jackpot: | Yes |
| | |
Where to Play Wild Scarabs
Wild Scarabs Mobile Slot Review

The mystery and appeal of Egypt has never waned from people's heads. It may not be as popular as it once was, but the draw of mummies, massive structures built as pharaoh's tombs that seem to defy logic as to how they were even built to this day and a dead language that we're not certain how it worked even today, when we've managed to start translating it. Despite the fact modern Egypt exists, ancient Egypt still has plenty of unexplained mysteries that we simply will never be able to find out. After it was conquered, the history and religion of old was swept away and replaced with that of the conqueror and all we have left are inscriptions on stone walls of a civilisation that gave the world as much as the Greeks.
Wild Scarabs offers gamblers a 5×3 playing field with 243 ways to win instead of a fixed payline structure. So long as the winning symbols are adjacent to each other, the slot pays prizes. It's also a low volatility title, one we'd probably recommend to new players, if there wasn't a suspicious absence of any RTP anywhere in the game. This is a red flag we have to raise, as we have no idea what your expected return will be playing Wild Scarabs. As for features, there are two notable ones. You have Wild Deal, which happens on a non-winning spin with Wild present on the third reel. Additional Wilds will be added to the playing field until a guaranteed winning combination is reached. Up to four additional Wilds can be placed. The other bonus is Stashed Wilds, which occurs during free spins. Collecting three or more Scatters will reward 10 free spins and during that feature, all non-winning Wilds are stashed to the side. Once three or more Wilds are collected this way, they are randomly distributed to reward a guaranteed win. Free spins persist until all Wilds are assigned this way.
How to Play Wild Scarabs
We're used to Microgaming pushing the visual fidelity field, so Wild Scarabs felt like a bit of a miss or a B-list title for the developer. Don't get us wrong, the animations are still gorgeous – seeing the Wild Scarabs sprout wings and fly about during the Stashed Wild feature is awesome, and there's clearly love and effort put into the title. But the presentation as a whole somehow strikes us a little underwhelming. The backdrop is very static, which isn't something we're used to seeing in Microgaming titles, and the daytime look just doesn't compare to the night sky you get to see during the free spins special feature. The symbols are mixed between unique ones such as eyes of Horus, ankhs, as well as some of the Egyptian gods, but alongside them you will also find gemstones of different colours and shapes. They're no playing card symbols, which we like, but they're rather obvious filler that doesn't seem to fit the theme.
What can you expect on the gameplay side of things? With the low volatility, you can expect to see a lot of small wins, and an occasionally bigger one hit every now and then, though nothing like what you can expect from a high variance title. Of course, everyone has their preference on what they want to play, so if you're looking for something safer, give it a spin. The features aren't quite as interactive as we'd have liked them to be. The Wild Deal feature remains elusive even after extensive testing, which we chalked down to bad luck on our part.
Jackpots & Progressives
There's no progressive jackpot in Wild Scarabs. But it's fair to say that most of the big wins you will get, rare as they might be, will come from the free spins feature. Don't underestimate how powerful the Stashed Wilds feature is. If you get stuck with two Wilds and a third one doesn't appear, you can get a lot of extra free spins on top of the eventually guaranteed win afterwards.
Bonus Games & Sign-ups
Beyond the above mentioned bonuses, there are no other special features in Wild Scarabs.
Game Screenshots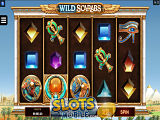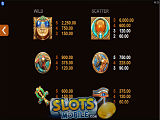 Where to Play Wild Scarabs
You might also be interested in these articles