Mobile Slots
Games
Wicked Tales: Dark Red on Mobile
Home
> Wicked Tales: Dark Red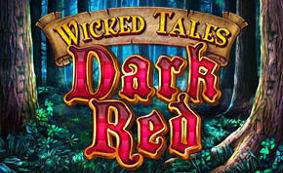 Slots Features
Slots Game:
Wicked Tales: Dark Red
Reels:
5
Wild Symbol:
Yes
Max Bet:
200 coins
Rating:
| | |
| --- | --- |
| Provider: | Microgaming |
| Paylines: | 25 |
| Scatter Symbol: | Yes |
| Jackpot: | Yes |
| | |
Where to Play Wicked Tales: Dark Red
Wicked Tales: Dark Red Mobile Slot Review

Everyone loves fairy tales. Stories told by our parents when we were children, when the world seemed like such a simpler place. Everyone was either evil or good, the path forward was crystal clear and you weren't burdened with the seeming weight of the world each and every day. But, as we grew up, we realized the world isn't really like that. And so we were left with the choice to either leave fairy tales behind, which most of us did. Or, we can make them grow up with us, which is what the artists at Triple Edge and Microgaming decided to do. What was once an innocent girl in a red cape coming to visit her grandmother is now an adult woman living by herself in the woods, wearing a corset and a mini skirt, chased after by a love-struck hunter, protected by charmed wolves and the only connection with her old life is a pendant depicting herself and her beloved grandmother.
Now that we've properly spoiled the childhood story you probably held dear to your heart, we can talk shop. The slot doesn't have a standard reel. At any given time, three of the five reels are magnified, meaning they have an added row compared to the other two, and spin together, which can make netting wins all the easier. Or all the more difficult, depending on your luck. The game has several special features, all of them locked behind the full moon Scatter. Collecting three or more Scatters spins the Wolf's Wheel, which can reward a point and click bonus in which you collect bags to unlock cash prizes with increasing multipliers. You can also find axes, which keep you safe from wolves. Once you click a bag which reveals a wolf and you don't have an axe, the feature ends early. The second bonus you can look forward to is the free spins feature activated when the wheel lands on one of the four higher paying symbols. That symbol then replaces all the other high paying icons, increasing your odds of landing a winning combination for the duration of those 9 extra turns.
How to Play Wicked Tales: Dark Red
If we're being perfectly honest, we're not sure we're big fans of what Triple Edge's artists are trying to do here. While we appreciate the alternate take on the whole topic, Dark Red feels like a major departure from the original story. Apparently, now she dresses skimpily, lures men in to kill them and commands red-eyes wolves to do her bidding. We get the feeling it was supposed to be a scarier slot in time for Halloween, but the developers toned it down a bit too much. Part of the backdrop, the one with the house, feels outright cozy, compared to the forested area that comes off as creepy. Perhaps the dichotomy is intentional, but it doesn't evoke that sense of unease that we think Triple Edge wanted to achieve.
And on the gameplay side of things, Wicked Tales: Dark Red doesn't really stand out from a standard slot, despite the constantly magnified reel. The prospect of having jumbo symbols at some points, as well as the special features we listed, is fun and all, but it never seems to pan out into something interesting. The visuals seem more prominent than the gameplay, honestly.
Jackpots & Progressives
There's no progressive jackpot in this Microgaming release. With a 96.1% RTP, the title sits slightly above average for video slots, but after playing it for a while we weren't able to pin down its volatility. It seemed all over the place and it may have contributed to our lack of enjoyment of the game. The title does offer a 5,000x jackpot for the luckiest gamblers.
Bonus Games & Sign-ups
There are no additional special features beyond the ones already mentioned.
Game Screenshots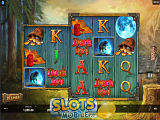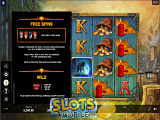 Where to Play Wicked Tales: Dark Red
You might also be interested in these articles