Mobile Slots
Games
White King II on Mobile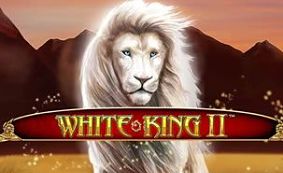 | | |
| --- | --- |
| Provider: | Playtech |
| Paylines: | 40 |
| Scatter Symbol: | Yes |
| Jackpot: | Yes |
| | |
Where to Play White King II
White King II Mobile Slot Review

There's really no animal more fitting of royalty than a lion. Majestic creatures that are more or less unparalleled in their native habitats, their packs roam the African savannah and hunt down everything from elephants to hippos, creatures even humans might have a hard time putting down. The fierce feline graced the coat of arms of many European noble houses during the medieval era. But what's more graceful and majestic than a regular lion? The even rarer albino one – the White King himself. The original slot, released four years ago appealed to a lot of gamblers – and Playtech, seeing an opportunity, did the sensible thing that will satisfy everyone – they made a sequel.
White King II offers gamblers a 5×4 playing field with 40 flexible paylines. Its main draw is the prospect of double symbols – all the higher paying symbols, Wilds and Scatters can appear as a single or double variant – and naturally, the double variant counts as if there are two symbols on one reel. As such, having one single and one double eagle, for example, would be enough to trigger a win. This also leads to scores reaching higher as a result of having more symbols to win with. As for the actual special features, there's just one – collecting three Scatters rewards 8 free spins during which more stacked Wilds can appear than in the base game. And, living up to its predecessor, you also have no cap on how many free spins you can score after the feature is already running. Three, four, five and six Scatters will reward five, fifteen, twenty-five and fifty extra turns, respectively, and so long as you keep scoring more Scatters, the feature continues.
How to Play White King II
We're not particularly pleased with the visuals in White King II. They're serviceable, but they feel somewhat outdated. The animations are rather minor, and the flickering paylines combined with the ticking noise reminds us of old physical machines, which isn't something we're particularly fond of remembering. There's also the absence of fully unique symbols on the board – instead, the majestic animals that roam the savannah share their space with playing card icons like 9, 10, J, Q, K and A, which sit with a boring grey print on them, with little appeal.
But visuals are only half of the story – the second, and more important, is gameplay. While the double symbols to sound attractive when you first hear about them, spending a bit of time with them will reveal them as a cheap gimmick. The ability for bigger wins is great, but they're not as common as you might like them to be, and the lower end of the spectrum also pays less to compensate for those possible bigger wins. That said, there's no denying you can see some ridiculously big wins with the right set-up. The only thing you have to worry about is making sure you have enough cash in your pocket when you finally get to that point.
Jackpots & Progressives
There's no progressive jackpot in White King II. Instead, it lures you in with the promise of theoretically endless free spins, much like the original, and spices it up with the addition of double symbols. We can't fault the system – it kept us engaged for quite a long time, and we imagine the dream of winning 5,000x your stake will keep a lot of gamblers interested as well. It's certainly in the range of a progressive jackpot, but it's equally as rare. With good luck, the Playtech release can offer quite a few awesome wins. Just make sure to budget accordingly – because it can and will eat your wallet if you're not careful.
Bonus Games & Sign-ups
There are no additional special features in White King II.
Game Screenshots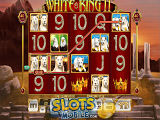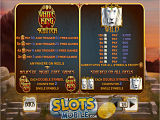 Where to Play White King II
You might also be interested in these articles