Mobile Slots
Games
Wacky Panda on Mobile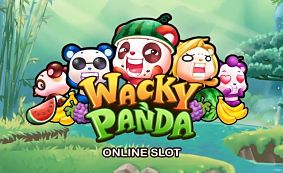 | | |
| --- | --- |
| Provider: | Microgaming |
| Paylines: | 1 |
| Scatter Symbol: | No |
| Jackpot: | Yes |
| | |
Where to Play Wacky Panda
Wacky Panda Mobile Slot Review

Who doesn't love pandas? They're large, clumsy bears with a unique colour pattern, and they're rather recognizable as WWF's symbol. But the real role they've all been waiting for was to star in Wacky Panda, a 3-reel, 1-payline slot made by Microgaming alongside Holly Jolly Penguins for the Christmas season. Admittedly, we're not exactly sure why the developers thought pandas, no matter how silly they look, would really fit Christmas, but we're not going to complain more choices in what games we can play.
As for what sort of gameplay you can expect from this slot – well, it's difficult to really pin down! It has three reels, but only one payline, which means that just about any win is very rare. Even the single fighting panda is a huge score, despite not requiring any other symbols. But just as they're rewarding, they're also very rare. And Wacky Panda will make you fight for each and every win. There are no special features or Wilds, or Scatters. It's just you and the reels, a bunch of pandas and fruits, and the battle to squeeze out what wins you can.
How to Play Wacky Panda
The art style for this slot is obviously inspired by anime and physical 3-reel machines. The fruits are the obvious part of the latter, as they don't particularly match to the giant bamboo forest or the pandas. But the anime inspiration is obvious from the way the pandas are drawn. Their emotions are overblown, the heart shaped and teary eyes are both rather clearly borrowed from Japanese animation, and the whole thing is overall clearly aimed for the Oriental, far-east market of the world.
As for how it plays? Honestly, boring. There are no bonuses, there's nothing to really break things up. Three reel games are something you either love or hate, and we used to love them back in the day of physical machines, when there was nothing better. Nowadays, the advent of online gambling has spoiled us with choice, to the point where even three reel titles often incorporate special features to lure gamblers into playing them. And in that sort of hyper competitive market, something like Wacky Panda just doesn't cut it for us anymore. It's a good thing if you're craving for a bit of nostalgia, but not so much for just playing it.
Jackpots & Progressives
But playing is just half the fun – what about the prizes? There's no progressive jackpot ticking away anywhere, but the grand prize of 3,333 coins is nothing to sneeze at, especially when you put it all together. Wacky Panda's prizes are great, but they are super rare to win. So for the most part, it's going to be a scramble to win some cash early on so you don't get discouraged when you start dipping into the red. And, a few twenty or so spins later, you finally get a win and feel invigorated – and the process starts again.
Bonus Games & Sign-ups
As we already mentioned, there are no bonuses to speak of. It's honestly a bit bizarre that a slot at the end of 2017 is released without any special features what so ever. No Wilds, Scatters, free spins, no ways to double up your wins, or anything to break up the monotony of constantly spinning the same reels over and over, hoping things will line up on your one payline. While we understand wanting a more focused experience, Microgaming may have gone a bit overboard in giving no bonuses to players to work with. Wacky Panda remains a somewhat flawed product as a result – something that needs a little bit of extra polishing before we can really mark it as a positive experience.
Game Screenshots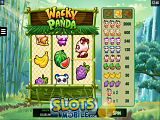 Where to Play Wacky Panda
You might also be interested in these articles