Mobile Slots
Games
Vampire: The Masquerade – Las Vegas on Mobile
Home
> Vampire: The Masquerade – Las Vegas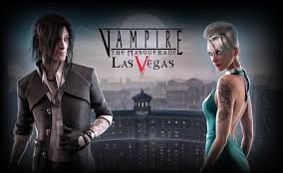 Slots Features
Slots Game:
Vampire: The Masquerade – Las Vegas
Reels:
5
Wild Symbol:
Yes
Max Bet:
20 coins
Rating:
| | |
| --- | --- |
| Provider: | Microgaming |
| Paylines: | 20 |
| Scatter Symbol: | Yes |
| Jackpot: | Yes |
| | |
Where to Play Vampire: The Masquerade – Las Vegas
Vampire: The Masquerade – Las Vegas Mobile Slot Review

Licenced titles aren't that uncommon in slots. Companies like to maximize on the potential of their newly popular properties, and various game tie-ins have been quite popular as a result. Regardless, these are usually associated with movies and TV shows that reached massive popularity, so it speaks volume that Microgaming and Foxium chose to use a role-playing game as a basis for their release. In partnership with White Wolf, the slot is set in the world of Vampire: The Masquerade, where different vampire clans live hidden from the mortal world. Despite all of these clans, there are two ways vampires perceive each other – Kindred and Cainite. While the Kindred do their best to preserve their humanity, Cainites reject it as false friendship to humans. And considering they call them Kine, which translates to cattle, it does seem disingenuous from the Kindred's side of things. However, all vampire beings live in a Masquerade, hiding their supernatural existence from the mortals of the world.
The Foxium's release offers gamblers a 5×3 playing field with 20 fixed paylines. There's certainly no lack of features to keep gamblers interested, as alongside the presence of regular Wilds and Scatters, you have a point and click bonus game in which you guide the vampire to charm a gambling woman into her hotel room, before draining her blood for a decent cash prize. Alongside that, two meters sit on either side of the screen, which are used to determine how many free spins and multipliers you get once the special feature starts, and if that wasn't enough by itself, the extra turns can also be additionally modified by Disciplines. There are three in total, and they are picked randomly at the start of the free spins bonus.
How to Play Vampire: The Masquarade Las Vegas
The title is honestly a mouthful of words to get through, but to its credit, it is quite descriptive in what it is. You are a vampire, masquerading among humans in Las Vegas, looking for your next prey. The depiction of Las Vegas in cloudy, grey weather with rain falling in the backdrop is really well done, making a striking visual difference from most other titles set in the same city. On top of that, you have all unique symbols, some of which are sigils of the various clans found in the RPG itself, while others tell a gruesome tale of what happens after the vampire feasts off a human. Blood filled bags, a crime scene investigation, newspaper clippings, and some inconvenient camera footage capturing our bloodthirsty vampire in the act.
The gameplay side of things is where this Foxium release gets interesting. It boasts about being able to award 30,000x your wager when you first boot it, and the large amount of special features are all lined up to lure you into thinking the free spins are the best earners. The pick and choose bonus can deliver some decent cash scores, but nothing life changing. Given that free spins can be altered depending on which discipline you get and that it brings its own multiplier into the mix, the free spins feature is much more appealing than it really is. However, there's a slight problem in value when it comes to those extra turns.
Jackpots & Progressives
When the free spins start, the value of all your symbols go down, and unless you take a look at the paytable before starting, the slot doesn't go out of its way to tell you this information. This means that if you want to get any sizeable win, you will need to get a large multiplier to cover for the lowered prizes. We can only assume that Foxium expected the bonuses to be frequent if they did this, but it doesn't seem to really work that way, as free spins are difficult to trigger, as well.
Bonus Games & Sign-ups
Free spins are activated when one of the two meters fills up, which means you will either have the maximum amount of free spins or the highest possible multiplier up. These are filled up when the Vampire and Prey symbols appear next to each other.
On top of that, there are three disciplines which are picked randomly at start of free spins. One replaces the prey with Wilds which can then duplicate across the board, one randomly replaces up to six positions on the reels with Wilds, and the last one starts you off with four Wilds that change positions randomly as the reels spin.
Game Screenshots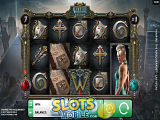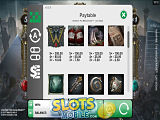 Where to Play Vampire: The Masquerade – Las Vegas
You might also be interested in these articles