Mobile Slots
Games
Triple Tigers on Mobile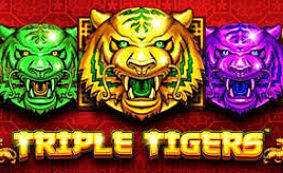 | | |
| --- | --- |
| Provider: | TopGame |
| Paylines: | 1 |
| Scatter Symbol: | No |
| Jackpot: | Yes |
| | |
Where to Play Triple Tigers
Triple Tigers Mobile Slot Review
Sometimes, in an effort to grab attention, slot makers can go a bit too far. Special features with chances to win big bonuses have become commonplace, to the point where at times it can feel games are trying to include as many as possible to show them off as a selling point. And while that insane chase seems to have died down, sometimes you don't want to bother with any bonuses, keeping track of Scatters or Wilds. Sometimes you want to lean back, let the reels spin and see if you win or not without waiting for the right alignment of the moon to get a score that doesn't suck because it didn't happen while a bonus was up. If you feel this way, then Triple Tigers from Pragmatic is very clearly the type of slot you will enjoy.
It has a 3×3 playing field, a single payline and no special features whatsoever. It can honestly feel a bit odd at times, but Pragmatic Play stuck to their guns. Wilds wouldn't really work when there's just a single payline around and neither would Scatters or free spins. Naturally, this means plenty of dead spins, but it also means when you win something, it actually pays off in the long term, rather than having to wait for free spins or big multipliers to get a serious reward, while regular winning symbols pay very little in comparison. So if you're hankering a return to the good old days where every win meant something, Triple Tigers is certainly a good investment of your time!
How to Play Triple Tigers
The game is more orientated towards the Chinese market and it's easy to tell. The red and gold motif is clearly present all over, the number 8, which is a lucky number in their culture, is one of the symbols and, most visibly, the tiger itself! In old Chinese mythology, the White Tiger ruled the West on the compass and tigers in general embody spirit and drive to achieve and succeed. As such, it's no surprise there's not one, but three differently coloured tigers you can find on the playing field!
As far as gameplay goes, it's a remarkably simple affair. It has an RTP of 96.52%, and a medium to high volatility. But honestly, if you have ever played a slot before, you will know how to play Triple Tigers. You just keep spinning and hope for the best results. Having said that, the game does allow you to play for very small sums of cash. For as little as $0.01 per spin, up to $5. So while high end gamblers probably won't be too satisfied with such a low maximum bet, low end players will no doubt enjoy the fact they can enjoy this title for as little as a penny per spin.
Jackpots & Progressives
There are no progressive jackpots in Pragmatic Play's latest release. Instead, the developers focused on making the real jackpots fun. Wins aren't that rare, in our opinion, but most of them come after a few dead spins, and will mostly consist of Bar symbols. These can come in three different colours, and while getting three of the same colour is more profitable, most often than not, you will get more than one colour in the winning combination, which brings the win down some. Still, every prize feels like it counts, as even the lowest paying icon is 10x your wager, while the biggest fixed jackpot are three golden tigers, worth 500x what you bet on the playing field.
Bonus Games & Sign-ups
Triple Tigers has no special features or bonuses to speak of. It can feel a bit slow when there are no wins, but we admire the fact the developers chose to stick to their vision and launch a title with no special features whatsoever.
Game Screenshots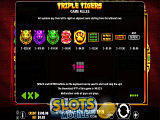 Where to Play Triple Tigers
You might also be interested in these articles