Mobile Slots
Games
Tian Di Yuan Su on Mobile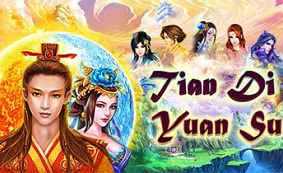 | | |
| --- | --- |
| Provider: | RTG |
| Paylines: | 30 |
| Scatter Symbol: | Yes |
| Jackpot: | Yes |
| | |
Where to Play Tian Di Yuan Su
Tian Di Yuan Su Mobile Slot Review

There are lots of upsides of being an economic superpower with a rich and colourful history. Your people are well off, you have great accomplishments to look back on and feel proud, and once you become a giant, everyone will want to court your favour by making games around your mythology and history. While there's a fair amount of Chinese focused slots, we don't think we've yet seen one that places the concept of Wu Xing, or five elements, in such focus. Wu Xing lists the five types of chi that dominate everything, and ancient Chinese civilisation to describe interactions and relationships between a great deal of things. Fields such as geomancy, astrology, medicine, music, martial arts and military strategy all incorporated the concept, although it had all but vanished nowadays from everything except martial arts.
Tian Di Yuan Su offers gamblers a 5×3 playing field with 30 fixed paylines. As far as special features go, the offers are fairly simplistic and humble. You have Wild, which is represented by the Sun and doubles all prizes it is a part of. Hands down, it's the most valuable icon in the entirety of the game, with a whopping 10,000x win for a five of a kind. Alongside Scatter represented by the Moon, these two icons bring the five raging elements of Water, Fire, Earth, Wood and Metal into order. Scatters, meanwhile, can win anywhere and apart from awarding small cash prizes, they also activate the free spins feature. Winning three or more Scatters always rewards 8 free spins, but the number of Scatters you get determines how many bonus picks you receive. Three, four or five Scatters gets you two, three or four bonus picks, respectively, and this allows for the maximum of 33 free spins at a 15x multiplier on top of which you can also include Wild which doubles all wins it is a part of. Sufficed to say, there's a high volatility prize waiting for those brave enough to enter the realm of Gods. Are you one of them?
How to Play Tian Di Yuan Su
We have to give credit where it's due. RTG have made a big jump in graphics fidelity. They always seemed to lag behind everyone else, but in the last few months, the quality of both their user interface and visuals themselves have gone way up. Even here, you can see the birds flying up against the mountain peak, the golden waterfall flowing out of the temple, the light glimmer in the air. This isn't mentioning small animations on the characters themselves who reside on the reels. This is something small, like hair fluttering and minor head movement, but it's still miles ahead of those old RTG symbols that didn't move at all.
On the gameplay side of things, Tian Di Yuan Su is very much so built around those special features we already mentioned above. Without free spins and Wild doubling all wins, it would be rather bland, and the volatility, we imagine, would be way down as a result. Getting as many Scatters during the free spins period is very important, as the more you have, the greater odds that you walk off with more free spins and multipliers under your belt, and, by extent, better odds of winning big.
Jackpots & Progressives
There are no progressive jackpots in Tian Di Yuan Su, and while we don't think the game really needs one, we do feel one more special feature could have made things a bit more interesting. Right now, the slot plays on a cycle during which you have free spins and a big multiplier, and the longer, boring period where you don't. Something to mix things up is sorely needed, and Wild just doesn't do it.
Bonus Games & Sign-ups
Outside of the already mentioned bonuses, there are no other special features offered in Tian Di Yuan Su.
Game Screenshots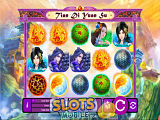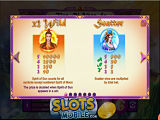 Where to Play Tian Di Yuan Su
You might also be interested in these articles