Mobile Slots
Games
The Magic Shoppe on Mobile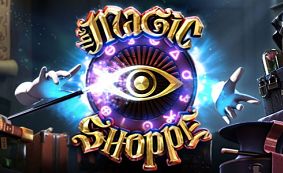 | | |
| --- | --- |
| Provider: | BetSoft |
| Paylines: | 25 |
| Scatter Symbol: | Yes |
| Jackpot: | Yes |
| | |
Where to Play The Magic Shoppe
The Magic Shoppe Mobile Slot Review

Ah, magic. A power beyond our understanding, it has been part of many stories, from old, ancient tales, to modern day iterations. It has been good or bad, coming with no drawbacks or steep prices to pay, but it seems in the Betsoft's world, the ability to wield magic comes with a steep price to pay. Of course, those who master this dark craft could see great reward for their efforts, with free spins locked away within mysterious, chained boxes, magic wands that can become Wilds and even transform the boxes into additional Wilds, and a chance to double your winnings. Welcome to The Magic Shoppe that offers 5 reels, 25 paylines and a frightfully good time.
We loved the graphics. The ominous floating sign that shows off the logo of the slot. A single, unblinking eye that stares you down as you spin the reels. The backdrop shows a rather cramped room, with many things crowding it, from innocent things such as lamps and stacks of cards, to more threatening things like skulls and the aforementioned eye. While it's far from a horror game, it really helps to sink you into the obviously creepy atmosphere the developers were going for.
Scatters in The Magic Shoppe come in the shape of two different lockboxes, the Sun and the Moon box, which can open to unleash their power. They don't pay anything, but three or more on each reel will trigger a free spins bonus, provided you matched three of the same kind. Because you have two Scatters which are functionally the same, it makes activating this special feature a major pain in the neck. However, each spin guarantees either a win or a feature trigger, additional extra turns can be won, and magic wand bonuses play out immediately.
Speaking of Magic Wands, they act as temporary Wilds if three or more appear on the playing field at any given time. On top of that, if you have any unopened lockboxes when the three Wands become active, those boxes will also open up to become Wilds themselves. This can lead to a satisfying win, and in our experience, this sort of special feature appears a lot more often than the free spins.
How to Play The Magic Shoppe
We would put in somewhere between a low and medium variance. The Betsoft's release is very impressive visually, but its paytable can leave a lot to be desired. As such, gamblers will be chasing the bonuses more so than wins that happen during normal gameplay and the magic wand will no doubt become your best friend if you hope to leave with any decent amount of money.
You can bet between $0.50 per spin up to $125, which opens the slot for both casual gamblers and high rollers alike. However, given the mechanics at play, and how the paytable is structured, big wins require a lot of investment. As such, we'd recommend you have a fair bit of money to burn in your pocket if you want to get anything good from this game.
Jackpots & Progressives
Unfortunately, Betsoft didn't include a progressive jackpot in this title, which always makes losing at least a little bit more bearable. Still, you have enough dreams to chase trying to get a big win from a free spins special feature. You don't need a progressive jackpot on top of that to leave you wanting for more.
The fixed jackpot doesn't even break 100x your wager and to score it, you need a five of a kind Wild win, which we can't remember ever seeing in any slot, let alone The Magic Shoppe. The rest of the icons on the paytable follow suit, requiring you to combine lots of wins rather than a few strong scores.
Bonus Games & Sign-ups
The free spins are notoriously difficult to access because of two different Scatters being active instead of just a single one. The amount of times you will probably see one blue and one red box appear on the reels will make you grind your teeth in frustration, but there's nothing you can really do about it.
Game Screenshots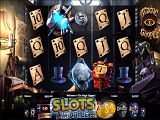 Where to Play The Magic Shoppe
You might also be interested in these articles