Mobile Slots
Games
The Legend of Shangri-La: Cluster Pays on Mobile
Home
> The Legend of Shangri-La: Cluster Pays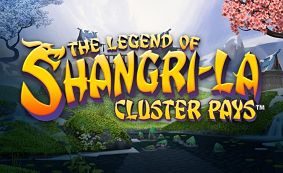 Slots Features
Slots Game:
The Legend of Shangri-La: Cluster Pays
Reels:
6
Wild Symbol:
Yes
Max Bet:
200 coins
Rating:
| | |
| --- | --- |
| Provider: | NetEnt |
| Paylines: | Cluster Pays |
| Scatter Symbol: | Yes |
| Jackpot: | Yes |
| | |
Where to Play The Legend of Shangri-La: Cluster Pays
The Legend of Shangri-La: Cluster Pays Mobile Slot Review

We always find it interesting how some things seem to line up and briefly become popular all at once in the industry. Part of it is certainly that a good idea gets copied over by other developers. At other times, it seems more along the lines of many people having the same idea at the same time. Cluster Pays seem to be the newest trend as late summer turns into autumn and NetEnt decided to put forward its own candidate. It boasts 6 reels, and a myriad of special features to gamblers who are lucky enough to activate them. Of course, gamblers with a bit more of a memory might recall a similar slot by the same developer called Aloha! Cluster Pays. In a way, this is an evolution – or devolution, depending on how you look at things.
Of course, being a NetEnt game, the graphics have to be amazing. We can't say we were floored with the impressive visuals, but we also can't deny that for all their faults, NetEnt know how to draw us in with their themes. The calming music, the tranquil backdrop, and interesting symbols set up on a reel that's purposefully made out to look like a scroll. It all meshes together very nicely to create great visuals and atmosphere that will impress people who care for that sort of thing, while creating an enjoyable sight even for those who don't pay it much heed.
Rather than using regular Wilds, the developers chose to give them a specific name here, Substitution symbols. They can transform into any other icon except for Scatters, but aren't actually called Wilds, and don't pay anything by themselves. They also make an appearance in a special feature that can make them appear on the reels to complete a win, though it happens at random. And their Scatters are just dubbed Free Spin icons, and serve that exact purpose. Unlike other symbols that are 1×1 or 2×2, these are a little bit bigger, which makes assembling three or more for the special feature a bit tough.
How to Play The Legend of Shangri-La
We can't deny it has its fun moments as well as downtimes. The slot can at times be a frustrating experience where you gnash your teeth faced with dead spin after dead spin, with seemingly little in the way of wins. Then, you get a nicely positioned group of substitution symbols next to an elephant, and you win what the game proudly dubs a 'Big Win'. Never mind the fact it's only 15x your wager. The upper limit to what you can win is certainly very impressive, don't get us wrong. But at the same time, it just leaves us wanting for more.
You can play NetEnt's newest release for $0.10 up to $200 per spin, which is a rather colossal range that should appease both high rollers and casual gamblers. For us personally, staying a bit on the lower end is what we advise here. Solid wins are possible, yes, but we can't really recommend betting big unless you can win some insane numbers, and The Legend of Shangri-La just can't make those numbers happen.
Jackpots & Progressives
There's not much in terms of a progressive jackpot to chase. Instead, it's all about the special features and trying to line up big clusters to win. Given our recent review of Giovanni's Gems, we can't help but compare the pair. Both have good looks, and aren't that spectacular on the winning lines, but Giovanni's Gems had a bigger reel, required less symbols in a single cluster to make a win happen, and had re-spins that chained off against one another. None of this happens in The Legend of Shangri-La, and it doesn't really have that much of a better paytable to support it in turn.
Still, if you're looking to score some cash out of the slot, we can suggest chasing after the Wilds. In the right place at the right time, we've seen a few decent wins involved. It's nothing life changing, but a lot better than nothing.
Bonus Games & Sign-ups
While Giovanni's Gems didn't have much beyond free spins and the rolling reels, The Legend of Shangri-La boasts quite a few more. Random substitutions can occur if you have two clusters of the same symbol that aren't connected, sticky re-spins can also occur which is a great boon, and there is a Nudge reel that happens when two free spins symbols already lined up. If there's a free spin out of the visible reels, it can get pulled back in. All of these happen randomly.
Game Screenshots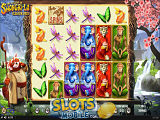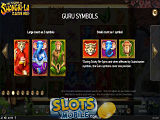 Where to Play The Legend of Shangri-La: Cluster Pays
You might also be interested in these articles