Mobile Slots
Games
The Heat is On on Mobile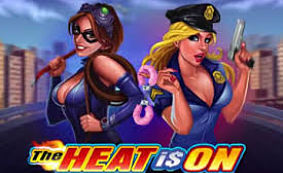 | | |
| --- | --- |
| Provider: | Microgaming |
| Paylines: | 45 |
| Scatter Symbol: | Yes |
| Jackpot: | Yes |
| | |
Where to Play The Heat is On
The Heat is On Mobile Slot Review

Does the glamourous life of crime call to you? Or would you rather strap yourself in a blue outfit and stop those who wish to break the rules of society? Either way, Microgaming's newest release, The Heat is On, has you covered, as a cat burglar and a police officer clash with each other and attempt to woo you over to their side with thrilling wins and dashing looks. With 5 reels and 45 paylines, this slot brings in some consistent, smaller wins, and a somewhat disappointing lack of special features.
The theme of the game plays relatively loose. Gambling poker icons can be found on the reels, as well as some unique artwork, such as a heart-shaped bomb, the thief's bike, a cop car, a helicopter, and a briefcase full of gold. Sure, they all fit, but none of the symbols seem that appealing. Most of them look a bit dated compared to what we are used to seeing.
Scatters used a bank icon to represent themselves in The Heat is On. However, calling them Scatters is somewhat disappointing, as the bonus they provide forces them to be adjacent to each other to count, losing out on the meaning of Scatters in the slot. It offers a small cash prize and free spins if you can trigger it.
Wilds are a lot more varied, however. While they don't offer any special features by themselves, there are two of them – the cop and the thief – and they interact with one another, allowing them to combine and chain wins, even if the payoff is a bit less than you would expect. They can replace any symbol except for Scatters.
How to Play The Heat is On
Gameplay doesn't really help the case for Microgaming's release. We aren't sure why they created such a large game and then added only one bonus, and a rather lacklustre one at that. While the base play feels fun, and the constant wins make it bearable, it just isn't as interesting in the long-term as certain other slots can be. It's disappointing, and it negatively impacts the enjoyability of the title.
Still, the betting range is at the very least decent, with $0.50 to $125 being a good spread that will allow both high rollers and casual players who are interested in trying it out a chance to play how they like. That said, we can't imagine high rollers sticking around that long, due to the paytable.
Jackpots & Progressives
The Heat is On doesn't have a progressive jackpot. You would be excused if you thought it didn't have a jackpot at all. The biggest single win in the game, five same Wilds in a row, only offers a 20x win. The rest of the paytable is equally disappointing. Getting three Scatters can be rare enough already, and the 'prize' from it is the fact you get your money back.
Special features don't pay that much better in this slot. Despite scoring a free spins reward, it ultimately added up to being an 8.2x win for four Scatters. This is all somewhat offset by the fact you win a lot of small wins, but it still feels unsatisfying as a whole, especially with the absence of other bonuses to help spice things up.
Bonus Games & Sign-ups
To activate the extra games bonus, you need at least three Scatters to be adjacent to one another on the playing field. If you have three Scatters, but they aren't next to one another, you get the small cash prize, but no special feature. This proves to be more disappointing than a little bit of variety that they tried throwing into the mix to make it better.
Rather than leaving the maximum at 20 free spins, The Heat is On allows you to go up to 80 depending on how Scatters are positioned. For example, two Scatters on reels 2 or 3 will multiply the spins you received by two. If you get two Scatters on reel 2 and two Scatters on reel 3, then you get a four time multiplier on the extra games. An interesting system, but it fails to really entice players.
Game Screenshots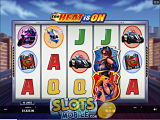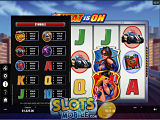 Where to Play The Heat is On
You might also be interested in these articles