Mobile Slots
Games
The Angler on Mobile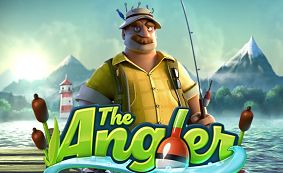 | | |
| --- | --- |
| Provider: | BetSoft |
| Paylines: | 20 |
| Scatter Symbol: | Yes |
| Jackpot: | Yes |
| | |
Where to Play The Angler
The Angler Mobile Slot Review

Hook on the bait and start the boat, because we're fishing for some wins! Quite a variety of fish life in the lake and we can't waste our time and let the competition scoop them up under our noses, after all. Join our red-headed seasoned fisherman and moustache aficionado in The Angler, a 5-reel 20-payline slot made by Betsoft. And much like actual fishing, this game offers players a shot at feeling the highs of winning and the lows of joining 30 dead spins in a row, on a less than stellar paytable and special features that are as rare as that prized catch you keep trying to fish up. You might be able to tell where we stand in terms of satisfaction with this title.
The graphics are passable, but they're far from the most amazing thing ever. They pull a Gonzo's Quest by sticking a character onto the sidelines to cheer you on, but said character doesn't really move much unless you win something big and lacks the charm of Gonzo picking his nose or just showing signs of life outside of when you win something on the reels. Beyond that, poker icons and various fishes make up your symbols, with the fisherman himself being the highest paying icon.
Scatters play their usual duty in activating free spins, but Betsoft does the increasingly annoying habit of forcing Scatters to appear on certain rows. The appeal of Scatters is that they give you a reward no matter where they are on the playing field. But Scatters in The Angler give no cash prize and they must appear in the third, fourth and fifth row all at once, and at that point, they really should lose the title of Scatter.
They should be just called Bonus Games, but the slot already called dibs on that. These can only be activating when their icons appear on the first, second and third reel at the same time, and it opens up a small mini-game in which you reel in or pull fish out of the water. While it offers to test your skill, it is as much pure luck as everything else, so don't feel let down if you only manage to catch two fish before the special feature ends.
Wilds don't do much outside of being able to replace symbols that aren't responsible for triggering bonuses. They can pop up on the second, third, fourth and fifth row, and despite being fairly common, we somehow still didn't manage to get that many wins during normal gameplay. Wilds also turn sticky while the free spins are up.
How to Play The Angler
The low paytable isn't as bad as it is in some other releases that recently came out, but it still doesn't feel satisfying. A 17.5x win was classified as a big win by the slot, which should really tell you that you shouldn't be expecting any high volatility here. But for a low volatility game, the amount of dead spins and special features that fail to make an appearance are rather astounding, so much so that we can only assume Betsoft wants to shepherd you down to the bonuses.
The Angler can be played at $0.02 up to $100 per spin, thanks to the variable coin size, up to 5 coins per line and the ability to increase and decrease the amount of active paylines. While we will suggest playing with all betlines up, we wouldn't recommend putting in any big money into the slot. It just doesn't pay off well enough to be worth it in our book.
Jackpots & Progressives
There's no progressive jackpot to work towards, which is a shame. Fixed jackpots aren't that amazing, so you need to repeat wins with strong symbols or a really lucky special feature to pop up so you could sweep up any wins worth of note, and out of both, neither are particularly likely.
It feels like a lot of games are coming out more for spectacle and any real chances of winning big seem to be dropping like a brick. We're not particularly pleased with this or with the trend spreading across big publishers that are content to clone existing stuff.
Bonus Games & Sign-ups
As we mentioned before, you can score some free spins by getting Scatters on the third, fourth and fifth reel at the same time. You can also activate a bonus cash prize game with the same method, but its icons need to go into the first, second and third place on the playing field.
Game Screenshots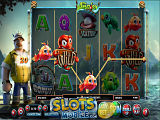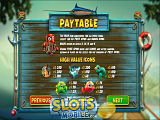 Where to Play The Angler
You might also be interested in these articles