Mobile Slots
Games
Swindle All the Way on Mobile
Home
> Swindle All the Way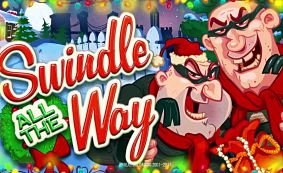 | | |
| --- | --- |
| Provider: | RTG |
| Paylines: | 25 |
| Scatter Symbol: | Yes |
| Jackpot: | Yes |
| | |
Where to Play Swindle All the Way
Swindle All the Way Mobile Slot Review

Ah, Christmas time. The snow is falling, covering the ground like a pure white soft blanket. Everyone's giving each other gifts, cookies and milk are being left out for Santa. And, of course, the part that ties it all together – a pair of escaped convicts looking to make off with everyone's stuff. Bet you didn't see that one coming! It seems RTG's latest release decided to swindle everyone's expectations for something cosy and peaceful in favour of a more dastardly approach. You certainly wouldn't be able to tell that much from just looking at the backdrop – but there are some dastardly little details that really bring it to life.
Swindle All The Way is played on a 5×3 reel with 25 flexible paylines, which means that gamblers can turn them on and off at will. This is something which you don't see very often in slots anymore, so it was a rather pleasant surprise that we're sure a lot of low end gamblers will appreciate. On top of that, ticking up in the upper right corner are two progressive jackpots which are triggered at random, as well as a free spins bonus that's done in a rather fun and unique fashion.
How to Play Swindle All The Way
We have to admit that we love the graphics. They're not amazing, mind you. They feel a bit stiff, and the poker cards making an appearance, no matter how well decorated, is never something we appreciate, but the little details that really sell a pair of crooks raiding the neighbourhood really win us over. The milk is turned upside down, and the cookie is bitten off. The Christmas sock has the word 'Rich' written on it, and the bag of gifts has 'Loot' scrawled on it. There's one rather rabid and disturbed dog trying to defend the property of its masters, and, of course, our two ugly thugs who decided to make their own merriment on Christmas Eve. Hats off to RTG, they really sold the world well.
We quite enjoyed it on the gameplay side, as well. We'd label it around medium variance, and it has a good reliance on its sole special feature to make wins happen, without accounting for the progressive jackpot. The general idea is to get three or more Scatters to appear on the playing field to trigger the House Break-in, from where the amount of free spins and the multipliers will be determined. From our experience, the bonus isn't that difficult to get, and it varied wins from about 20x our wager to hitting it to almost 120x once with us winning two re-spins.
Jackpots & Progressives
There are two progressive jackpots, which isn't particularly new to RTG's games, and neither is our criticism against it. It poisons the enjoyment slightly, as you get lucky enough to win a progressive jackpot, but you get the smaller one, while the bigger one still ticks away, taunting you to keep playing. Beyond that, Swindle All The Way lives up to its name, and presses you to score those special features, or you can kiss your own hopes of loot goodbye. If you're hoping to play this slot, we recommend making sure you wait and catch those thieves, as otherwise, you're just going to be losing cash.
Bonus Games & Sign-ups
Three or more Scatters will activate the House Break-in mini-game. In it, the thieves move through the house to rob it, and you click a row of three windows five times to uncover the crooks. Each time you catch one, you get two extra free spins, and one more multiplier. If you only triggered the special feature with three Scatters, you'll get to pick just once. If you get four Scatters, you can pick twice on each row, which greatly improves your chances. And if you start the bonus with five Scatters, then you start off with 10 free spins and a 3x multiplier, and you can go up to 60 free spins and a 33x multiplier. And as if that wasn't enough, if you get at least three Scatters while the free spins are active, you add ten more. How's that for fun?
Game Screenshots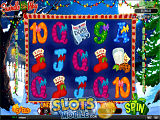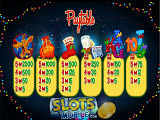 Where to Play Swindle All the Way
You might also be interested in these articles