Mobile Slots
Games
Sugar Pop 2 Double Dipped on Mobile
Home
> Sugar Pop 2 Double Dipped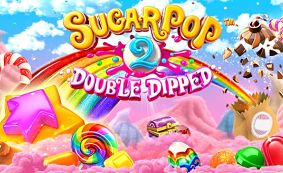 Slots Features
Slots Game:
Sugar Pop 2 Double Dipped
Reels:
7
Wild Symbol:
Yes
Max Bet:
250 coins
Rating:
| | |
| --- | --- |
| Provider: | BetSoft |
| Paylines: | Cluster Wins |
| Scatter Symbol: | Yes |
| Jackpot: | Yes |
| | |
Where to Play Sugar Pop 2 Double Dipped
Sugar Pop 2 Double Dipped Mobile Slot Review

Usually, our slot recommendations come down to whether or not we enjoyed it as we played it. Graphics, gameplay, music and the general feel of it all come together when we're handing down a verdict. But this is the first game where we have to add another metric – and that's if you're on a diet or not. Because if you are, Sugar Pop 2 is going to be sweet, sugary temptation itself. It's a world where clouds are cotton candy, you drink fizzy soda to advance through levels and various different sweets can be found all around the playing field, which have an effect on the reels and symbols, looking so yummy you want to reach out to the screen and pluck one right off. But if you're not watching your weight or you have a steel resolve, then carry on through this review!
Sugar Pop 2 is played on a 7×7 playing field and instead of having regular paylines, it uses a system of cluster wins. Every time you have four or more of the same symbol connected together, they form a cluster and each cluster pays accordingly. On top of this is the familiar collapsing reels mechanic. In this slot's case, the candies explode leaving behind empty spaces, which are filled by the candies that were on top of them while new ones fall from up top. This means that, theoretically, you could keep chaining wins together and that's part of the game's appeal. The special features it offers work around this. If you get more than five symbols in a single cluster, that cluster will produce a Wild. If you get five cluster wins in a row, it will spawn a bomb that will charge at a random section of the reels to explode and take all the icons with it. The bomb can even be increased in size if you get more cluster wins, which is obviously something you want.
How to Play Sugar Pop 2 Double Dipped
Betsoft have really outdone themselves when it comes to graphics. Sweets, by themselves, don't really have a lot of personality that carries through. But the real attention grab comes from the animations in their release. The slow rise of the bubbles in the fizzy soda, the way the candies explode and new ones fall down with a slight delay and bounce to indicate their stickiness and once you start gaining levels, new candies appear that have unique effects, such as the caramel, which bounces and swallows different symbols, before paying out their value at the end. We certainly hope Betsoft keeps at this level – we'd love to see what else they can pull off.
And speaking of levels, you should keep them in mind, because their presence exists to pad your playtime and give you a constant sense of progression. Or, it should work like that, at least. There are thirty levels, and you need four upgrade symbols just to move from the first to the second one. They're relatively frequent, but they increase the amount you need to upgrade by two each level, so by level five, where you get your first new candy, you'd need to have collected twenty eight in total. Rather than going all the way to 30, they should have lowered the levels, so you get something new every two levels rather than four. Right now, it feels like padding, especially once you start reaching those later levels.
Jackpots & Progressives
Rather than having a single, strong jackpot, Sugar Pop 2 balances more around getting lots of cluster wins. Free spins truly live to the idea of a bonus in this regard. They can bring a sizeable win, but just as much, they can be near-empty in terms of value. The only real way to increase it is to grind levels, which unlocks additional candy abilities. It's a smart system, which keeps you playing longer, so if you don't have the time or money to invest for a more long term gain, it may not be the right slot pick for you.
Bonus Games & Sign-ups
The additional bonuses you can unlock are as follows:
Level 5 unlocks the Caramel, which bounces through the reels at random and swallows up symbols, paying out their value afterwards.
Level 9 unlocks Candy Cane, which explodes all the symbols in the same row and column.
Level 13 unlocks Lollipop, which switches around the position of some symbols on the playing field.
Level 17 unlocks Pop Candies, which spills candies onto the reels which explode.
Level 21 unlocks the Jelly Bean Cannon, which rains down jelly beans that destroy the symbols they land on.
Level 25 is a Golden Wild, which functions identically to the regular one, without having to form it from a cluster win.
Level 29 unlocks the Sweet Hammer, which hits the reels up to 9 times, removing some icons from the playing area.
Game Screenshots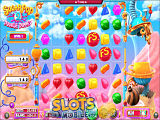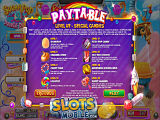 Where to Play Sugar Pop 2 Double Dipped
You might also be interested in these articles