Mobile Slots
Games
Sugar Parade on Mobile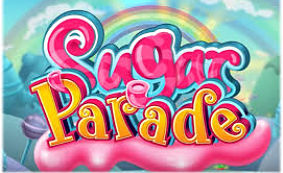 | | |
| --- | --- |
| Provider: | Microgaming |
| Paylines: | 15 |
| Scatter Symbol: | Yes |
| Jackpot: | Yes |
| | |
Where to Play Sugar Parade
Sugar Parade Mobile Slot Review

Whether the industry rapidly running out of ideas or there's a big market of soccer moms and kids gambling that we don't know about, we're not sure. But Sugar Parade, the newest slot released by Microgaming, certainly doesn't seem shy about showing off cutesy graphics you might expect to see in your five year old's cartoon, not on a gambling game. The title boasts 5 reels and 15 paylines with two special features, one activated by Scatter and the other with the bonus game symbol.
And we are rather confused why this was the pick by the developers. It's no doubt cutesy, but it's hardly something we'd expect to see given today's growing trends for the cool factor and moving into more adult themes all across the world. It could be that Microgaming simply wanted to do you a solid, so you can keep your kid's attention with all the bright, smiling candy pieces while you gamble in peace, although we're not sure how wise it is to be teaching kids our bad habits!
Scatters come in the shape of a smiling yellow ice cream cone. If you get more than one on the reels, it has another few balls of ice cream fall on top of it to signify it's a winner. Unlike the other symbols, it can pay with just two icons and they can be positioned anywhere. So, credit where credit's due, Sugar Parade returned the seemingly lost tradition of Scatters rewarding wins. At the smallest, it rewards just 2x your wager, but if you line up five in a row, it can boost your win with a cosy 400x what you bet on it, and that doesn't account for ten free spins if you make three or more Scatters appear at the same time. And to butter you up even more, the slot slaps a 3x multiplier on top of things.
Another special feature you can toy around with is the Bonus Game. It's triggered in the same manner as the free spins, and you're treated with what's supposed to be a cute animation of a basket full of treats floating up to you, giving you a smooch before bursting open and revealing a bunch of floating fruit babies. It gives more questions than it answers, but the bonus it offers is hardly worth the question that'll be racking your brain as you try to explain such things to yourself.
How to Play Sugar Parade
Unfortunately for us, the title is a rather droll affair. Both special features are hardly unique, the graphics feel weird and miss the mark of being loveable and cute and it follows Microgaming's cemented strategy of leaving low paytables and odds stacked so high against you most of the time, you'll walk off with a loss. Even when you walk out with more money than what you came in with, it's hardly a sum that we felt was worth it. But that's the price paid for bonuses that appear as often as they do in Sugar Parade.
Still, if you plan on playing it, you should hope you come across the free spins special feature. The bonus game is much more common, but we've only had a single win on it that stood above a 10x score, which doesn't really make it feel special at all.
Jackpots & Progressives
If you're hoping for a progressive jackpot to rush in and save the game from sucking entirely, you'd be wrong. It's not like there's not a lucrative jackpot you can't walk away with. A 400x win followed up by ten free spins would no doubt be a pretty satisfying score for a lot of people, especially if you're playing on the higher bet levels. But those kinds of wins are few and far between, and more often than not, you'll be facing dead spins, small wins that sit below what you wagered, and then a special feature or two that pop up to balance things out somewhat.
Despite all the time sunk into Sugar Parade, the most we managed to squeeze out of it was a win 36x our wager, which put us about twenty pounds more than what we started the slot with. We don't bet that big, so that's fine with us, but after playing it for three to four hours, we've hoped for at least one score that sits above 50x our bet.
Bonus Games & Sign-ups
We're not sure if we like the bonus game or not. It's far from unique – it's simply yet another point and click special feature, and there's plenty of those to find in various titles of both Microgaming and other developers. The wins are low in it, though we assume that's purposeful as it appears every thirty or forty spins for us, unlike free spins that are far rarer. We had two minor annoyances with it. First, it breaks your auto-spins, so you'll have to restart them, and there's no setting to change that, and if you trigger it during free spins, the win from it doesn't benefit from the 3x multiplier.
Game Screenshots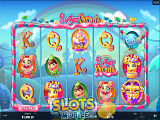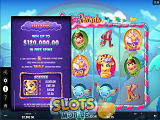 Where to Play Sugar Parade
You might also be interested in these articles