Mobile Slots
Games
Stampede on Mobile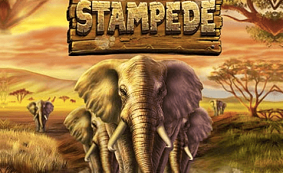 | | |
| --- | --- |
| Provider: | BetSoft |
| Paylines: | 1,024 |
| Scatter Symbol: | Yes |
| Jackpot: | Yes |
| | |
Where to Play Stampede
Stampede Mobile Slot Review

If there's one place in the world that feels foreign and exotic, it's the savannahs of Africa. Large plains with rare trees, full of animals that don't really appear anywhere else in the world. The large elephants, the speedy cheetahs, the tall giraffes, speedy zebras and easily frightened antelopes – and all of them make an appearance in Stampede, the Betsoft 2017 slot that takes place in exactly that location. So get ready for a trip of a lifetime, as we drive close to these majestic animals and uncover what sort of life they live.
This Betsoft release offers 5 reels and 1,024 ways you can get lucky and win the prizes it offers. On top of that, you have lucrative Scatter that rewards increasing amounts of cash and free spins depending on how many Scatters activate the special feature. Not only that, but once the free spins are up and running, gamblers will be able to add more of them by getting additional Scatters, essentially allowing you to extend it even further. And if that wasn't enough, Wilds that appear while the free spins special feature is active can also bring a 2x or a 3x multiplier with them, and those multipliers interact with each other, allowing you to have a whopping 27x multiplier on a win if you're really lucky.
How to Play Stampede
The visuals are generally well done, although they could use some additional work in our opinion. The animation on the elephant is really well done, but the rest of the symbols don't really have much on offer. They look cool, there's no denying it, but none of the other animals move around much when they're part of a win or when they're idle. There's also the bad side of this, which is the poker card symbols. These are somewhat decorated to the style of African tribal patterns, but they don't really do enough to stand out, and make it feel somewhat generic. The second downside is the static backdrop, which we feel could have gone with at least some minor animations.
So while the graphics are so-so, the core gameplay loop in Stampede remains a good, solid experience. Betsoft's release will have you chasing after elephants or the free spins bonus in hopes of getting a big win, and in the meantime, you'll be gritting your teeth and wondering if it was a good idea to give this game a try. We'd pin it around low to middle variance, because from our experience, it can bring some sizeable wins, but it takes a while to get to those wins as well, which balances things out. It's just that sometimes things go in your favour, and other times, the house wins.
Jackpots & Progressives
Without a progressive jackpot ticking over the players' heads, it falls onto the value within the game itself to lure players in. Stampede is clearly orientated towards more high rollers players – the minimum bet of $0.80 very clearly states that low end gamblers aren't really the target audience here. But, as we mentioned above, the prizes can be few and far between, and we don't think the cash payouts are quite strong enough to qualify it for a high variance title that most big gamblers are likely to target. That leaves the Betsoft title out of the audience it's trying to target with this slot, so they're going to need to make the special features more common, or to bump up the winnings numbers if they want to make Stampede a more long-term success.
Bonus Games & Sign-ups
Beyond what we already covered, there aren't any other special features that this game offers.
Game Screenshots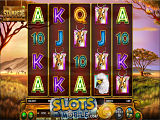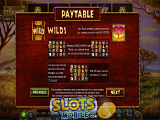 Where to Play Stampede
You might also be interested in these articles