Mobile Slots
Games
Solar Se7en on Mobile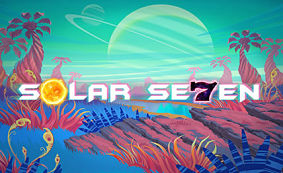 | | |
| --- | --- |
| Provider: | Playtech |
| Paylines: | 40 |
| Scatter Symbol: | Yes |
| Jackpot: | Yes |
| | |
Where to Play Solar Se7en
Solar Se7en Mobile Slot Review

We don't know about you guys, but we're always hankering for a good sci-fi experience. The thrill of exploring alien worlds, discovering things completely foreign to human imagination, blasting off in a space ship to planets far, far away. It's been a part of us since we first looked up at the stars, and there's no denying the genre's increasing popularity across movies, TV, games and even slots. Solar Se7en moves to capitalise on that popularity as well as getting some cool slang in along the way, giving you a gorgeous title to look at while you try to spin your way to success.
The game offers gamblers a 5×4 playing field with 40 fixed paylines. Despite being fun to play, there's not that much going on in it. It boasts a medium volatility, it has regular Wilds, and instead of a free spins special feature, it has re-spins instead. The bonus is generous – it relies or getting at least two space ships to land on the reels to trigger it, and each space-ship rewards 3 re-spins. While the re-spins are happening, the spaceships move up and down across the reels, acting as 2-storey high Wilds to increase the odds of the gambler carrying off a decent prize.
How to Play Solar Se7en
While it's not going to win the best graphics award anytime soon, it's a step-up from older Playtech titles, so we were quite pleased to see it. On top of that, we honestly loved how much life the artist team seemed to have poured into this foreign world. It could almost pass for our own, with grassy fields through which the wind blows, large mountains and clouds visible in the distance, and occasionally, you see a space ship fly off up into the sky, disappearing from view. It's the symbols that really sell the alien vibe, with oddly shaped fruits, glowing crystals, ferocious robotic animals, and even real, live aliens! Pair it all up with a rather good looking user interface where everything is cleanly labelled and nothing is two buttons away, and you have a winning combination.
Solar Se7en does well by itself on gameplay, too. Of course, there's not a lot of diversity in it, but it plays its cards honestly. The one feature it has can be a bit difficult to trigger, but the trade-off balances in the prize it rewards, which is pretty darn good. Regular Wilds seem frequent as well, which helps things from becoming too boring while you're waiting for the slot to award you those re-spins, but we'd be lying if we said there aren't occasional dry spells in which you won't be winning anything, or getting very small wins from time to time.
Jackpots & Progressives
There's no progressive jackpot in this game, which leaves you with the special feature and the medium volatility that's on offer. The Playtech 2018 release sticks to its guns, and while we usually enjoy more high volatility titles, we can also appreciate taking a break with something a bit more relaxed and less dangerous for our wallets from time to time. There's less of a time investment, but on the down side, the highest wins aren't as good as they can get in other titles.
Bonus Games & Sign-ups
Beyond the above mentioned re-spins and moving Wilds bonus, there isn't much else to talk about. Which is a shame, because while we liked Solar Se7en, there were parts of it in which we honestly felt another bonus might have been good for it. Even a simple point and click feature or having a randomly triggered boost of Wilds could have done this slot a world of good. As it stands though, it's good, but it could be a little bit better.
Game Screenshots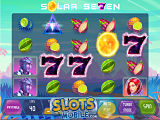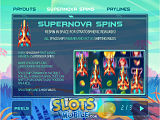 Where to Play Solar Se7en
You might also be interested in these articles