Mobile Slots
Games
So Many Monsters on Mobile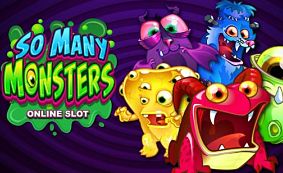 | | |
| --- | --- |
| Provider: | Microgaming |
| Paylines: | 25 |
| Scatter Symbol: | Yes |
| Jackpot: | Yes |
| | |
Where to Play So Many Monsters
So Many Monsters Mobile Slot Review

We haven't seen a lot of slots that tackle things that go bump in the night, but we have seen a fair share of horror type games over the years. That said, if you were hoping for a fright or two, we're afraid these monsters are a bit on the cute and delightful side of things. This is So Many Monsters, a 5×3 reel 25-payline title that is part of the So Many So Much series that was all released around the same time by Microgaming. But will these little creatures bring you good luck, or will they eat a hole in your pocket and scamper away?
As we mentioned before, the monsters in this slot are absolutely cute rather than menacing threats you would expect them to be. Overall, we quite liked the theme here. The reels are bright and colourful, filled with quirky creatures and poker card symbols that manage to blend together quite well, even if the colours can be a bit off at times. While far from the best graphics Microgaming have ever done, it certainly doesn't lack for anything either.
Scatters come in the shape of an eyeball, which comes with a minor cash prize and a little bonus that you can trigger. They can appear anywhere on the reels, and if you have three or more, you get to pick between different variants of monsters which will award a different amount of free spins and prize money depending on which one you choose.
Wilds use the game's logo to show them off, which isn't a personal favourite. They also come with a really good five of a kind win, which can be a turning point for some players, but odds are that you won't see it triggered. From our experience, both Wilds and Scatters have been somewhat suspiciously rare, but whether this was bad luck on our part or part of the slot remains to be seen.
How to Play So Many Monsters
So far, this Microgaming release sounds rather standard, doesn't it? But the big draw of the series, and this game along with it, is in its ability to split into more than one symbol. All monster icons have a chance to split and add up to a 25 icon win, making five of a kind wins a bit dull in comparison! In fact, only Wilds, Scatters and lower paying symbols have three to five kind of wins, while monsters only award wins if you have more than five of them, speaking of how certain the developers were about the feature.
We can't say we share their enthusiasm, however. We can't say it is a coin muncher, but it has definite ups and downs and if you happen to be playing at too high a wager when it decides to take your money, it can bleed your money really fast. It balances out for the most part, but we personally found after a winning streak it is probably better to take what you got and drop it for the time being.
Jackpots & Progressives
So Many Monsters doesn't boast about any progressive jackpots. Instead, the big draw here will probably be the monster splitting that comes unique with the So Many series. The slot doesn't give you much on lower splits, and it is usually that it starts picking up steam after having ten or more split monsters.
And even then, it isn't that much. The various free spins promise much, but from our experience, it pays off to take more spins over a higher potential jackpot. On top of this, the paytable is a bit disappointing. For the red monster, the highest paying icon, a 25 of a kind combination wins only 640x, which honestly feels disappointing in the long run.
Bonus Games & Sign-ups
When you land three or more Scatters, you are given a choice between five different monsters. The choice doesn't change things that much, as it alters only the basics. Each monster gives you a certain number of free spins, and the lower amount of free spins you get, the higher the maximum potential jackpot from that monster will be. It plays the risk reward game with you, drawing your eyes to the large potential win you could carry home.
However, from what we have seen personally, So Many Monsters does this as a 'trap'. The best wins we managed to score have been from taking more spins over higher jackpots, and so we can warmly recommend picking the green or purple monsters for the best of both worlds.
Game Screenshots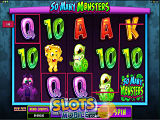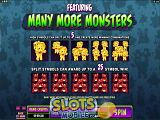 Where to Play So Many Monsters
You might also be interested in these articles