Mobile Slots
Games
Six Acrobats on Mobile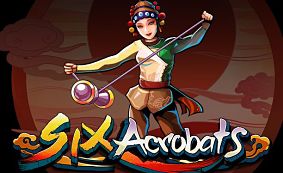 | | |
| --- | --- |
| Provider: | Microgaming |
| Paylines: | 9 |
| Scatter Symbol: | Yes |
| Jackpot: | Yes |
| | |
Where to Play Six Acrobats
Six Acrobats Mobile Slot Review

We weren't to certain what to expect out of Six Acrobats when it was released. No doubt it was going to draw in a fair few players, as Microgaming's slots always do, but there was the added appeal of being very similar to the popular Break Da Bank Again game that was released much earlier. It seems that the developers were hoping to clone it into a release poised for the Asian market and we'd say they've managed to do it justice well enough. You have 5 reels and 9 paylines, with the promise of high volatility where you lose a lot and then win a lot back.
It's no surprise when you aim something for a specific market that it takes the shape of their culture in a more accented fashion, but they seem to really be blending in together, throwing in the more easier to recognize icons to the forefront, so you see a lot of the same things all over. It isn't as if important icons from these oriental cultures aren't shown off in some titles, but it almost feels like there's a pressure to make sure a slot is visibly aimed for that market, which can make it feel a bit drab after a while, like playing one too many games with a leprechaun and a mountain of green stalking you around.
In a somewhat interesting move for Microgaming who became rather infamous as penny pinchers when it comes to their paytables, Scatters offer a pretty good deal most of the time. Two of them will pay the gambler 2x their wager, while three or more rewards free spins and a 5x multiplier to all wins, with the ability to add more turns if more Scatters land while the bonus is active. And while it does sound nice on paper, it can be hit or miss. In one free spins round, we won around 60x our wager. In another, we had just one win that barely raised us over 1x our stake, and in both of those, we had a few added spins that helped make their mark.
And while Wilds don't get their own spotlight special feature, they do get to boast over the fact that along their usual role, all wins with a Wild as part of them pay 5x what they would usually, and 25x more if free spins are active. As you can imagine, this makes Wilds a very attractive prospect, and wins with them involved are somewhat we can imagine quite a few players might chase for a high score.
How to Play Six Acrobats
And after a few hundred spins, highs and lows and a lot of coins wasted away at it, we're still a bit in the middle on how we feel about this slot. It isn't bad, and from what we can tell, Microgaming certainly hit the mark about making something fun and enjoyable to play. But we also don't think the game hits the high volatility, high variance playstyle it wanted. There are drought and winning periods, but they feel compressed and occasionally broken in by a bunch of small, meaningless scores, almost as if the developers feel a bit scared that if you aren't constantly encouraged, you might lose interest.
Still, the paytable alongside the various multipliers thrown around the Scatters and Wilds does open up the venue of a juicy win, but sufficed to say you'll have to get lucky for it. It sits ahead of most low variance titles that Microgaming usually shovels out, but we aren't going to pretend you're going to get a big win in your first fifty spins. You have to commit for the long haul here.
Jackpots & Progressives
We're tempted to see how the publisher might have pulled off a progressive jackpot with everything else around, but it might be asking too much. The core gameplay loop really seems more in tune for a back and forth of medium and small wins until the slot really opens up and lays in a huge jackpot on you, and a progressive jackpot might have added a layer that detracts from that.
Still, temper your expectations. From our personal playings, the biggest wins we managed to haul away sat around that 60x our wager that we already mentioned above from the free spins and most of that was thanks to two lucky Wilds being in the right place at the right time.
Bonus Games & Sign-ups
Free spins are a rather simple affair in Six Acrobats. The game rewards you between 15, 20 or 25 free spins, depending on how many Scatters are present on the reels when the special feature is activated. There's no unique gameplay to it, apart from the 5x multiplier and Wilds increasing their own multiplier to 25x, which can stack up to give your win a 125x increase if you're lucky enough.
Game Screenshots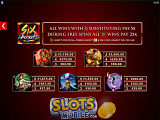 Where to Play Six Acrobats
You might also be interested in these articles