Mobile Slots
Games
Scuba Fishing on Mobile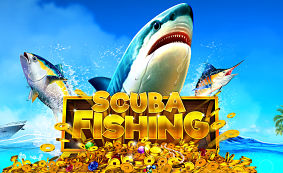 | | |
| --- | --- |
| Provider: | RTG |
| Paylines: | 27 |
| Scatter Symbol: | No |
| Jackpot: | Yes |
| | |
Where to Play Scuba Fishing
Scuba Fishing Mobile Slot Review

Sometimes, you want to play something to get your blood pumping. The thrill of chasing a jackpot and watching it finally blow up on your screen, seeing the numbers increasing faster and faster, while the music blares and your brain basks in glory as you collect your freshly collected jackpot and make off like a bandit – it's something nothing ever managed to get even close to replicating, hence why we're such avid slots fans to this day. But sometimes, you don't want to worry about budgeting properly, watching the reels carefully to see if everything will line up perfectly or hoping for that one special feature to come in and save the day. It's in times like these that you want to play something like the RTG's release called Scuba Fishing. It takes you beneath the waves near the tropical coast to get you acquainted with the local wildlife and maybe help you get some casual wins along the way.
Scuba Fishing is a diving-themed video slot with a 3×3 playing field and 27 ways to win – meaning that, so long as three symbols are adjacent to each other, they can reward a win. It's much simpler to keep track of the paylines with fewer reels, but it also limits how much you can do in terms of gameplay and special features. Speaking of bonuses, Scuba Fishing offers players only one – Wild, depicted as a large shark and with a random chance of expanding once it finds itself in the middle reel. If it does so, it triggers a re-spin, where it remains in place on the second reel, while the first and third reel re-spin with a blank icon and one randomly selected symbol. You can win all blanks or you can win a full reel of that randomly chosen symbol and expanded Wild on reel 2. It all boils down to how lucky your dive beneath the waves will be.
How to Play Scuba Fishing
While we weren't too certain on the theme itself, we're definitely not sold on the RTG take on the whole thing. Call us spoiled by the likes of NetEnt and Yggdrasil, but when your competitors are pushing the limits in both gameplay and visuals, you can't really afford to hang back and use basic animations like this. The diver just floats up and down in a very artificial manner and all the symbols on the reels loop through their animations constantly instead of just during their wins, making the fun of the animations wear out much faster. There are some nice details, like the swarm of fishes passing by in the backdrop, and we have to admit, it looks gorgeous, but we think RTG should have set it entirely underwater. As it stands, all the cool, moving parts are beneath the waves, while it's painfully obvious a static image exists above them, which ruins the immersion of the whole thing. Scuba Fishing also has a relatively simplistic, but easy to use UI, so we have nothing to say either positive or negative on that note.
As far as gameplay goes, the title is low volatility affair. We have to admit, we didn't like that nearly as much – the fun of playing smaller reel titles is the fact you can expect big jackpots from them – they play fast and with minimal features, meaning you can either force a win, or walk away with your wallets much lighter than before. A low volatility game, with just one special feature and a small playing field? It really doesn't work that well.
Jackpots & Progressives
There's no progressive jackpot in this game. The largest win you can achieve is worth 160x the wager, which isn't particularly impressive. We weren't able to find the RTP for Scuba Fishing, which is generally a red flag against any game.
Bonus Games & Sign-ups
Beyond the expanding Wild, there's no other bonus available in this title.
Game Screenshots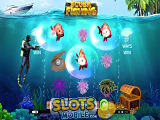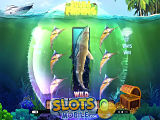 Where to Play Scuba Fishing
You might also be interested in these articles