Mobile Slots
Games
RoboCop on Mobile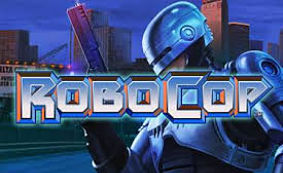 | | |
| --- | --- |
| Provider: | Playtech |
| Paylines: | 25 |
| Scatter Symbol: | Yes |
| Jackpot: | Yes |
| | |
Where to Play RoboCop
RoboCop Mobile Slot Review

It's a bit odd to imagine the original RoboCop movie has turned 30 this year, when it seems to have been oh so recent. An old classic like that, it's a wonder it took as long as it did for a company to sweep in and make a slot out of it. The honours for that have fallen into Playtech's hands, and now we have a 5-reel, 25-payline game with a myriad of special features that can either occur randomly during play, or when they're activated with Scatters. It also boasts impressive numbers to look at, although in our experience, the wins don't go quite as high as they might first look.
It isn't anything spectacular visually. It offers a rather good looking user interface, but there aren't any big animations to show off. Instead, the title relies on video clips from the movie itself playing when something big happens, such as a triggered feature. This sort of approach isn't bad, although it can be difficult understanding on your first time through that you can skip through the segments by tapping on the screen a few times, although that might pose a problem for certain phones that use that as a signal to shut off.
Scatters make an appearance in RoboCop and don't offer much of a cash prize, which takes a few points off. On the other hand, if you can position them in reels 1, 3 and 5, they offer you to pick between four different bonuses you can activate. You can pick between Shootout, which grants 10 free spins with Wilds randomly placed across the reels, Robot Attack that grants 5 extra turns and a giant Wild in the middle, OCP Mega Bonus that has you opening cards to find three matching symbols for a big win, and Line Up free spins that rewards you 15 extra turns with a 2x multiplier on every win. They're essentially the bigger versions of random special features that could happen during the base game, only this time around you can pick which one you like most.
How to Play RoboCop
You shouldn't expect massive payouts here. It seems that this licensed slot seems more geared to casual audiences, as it is a rather low variance effort that can eat into your budget until you score a win that will usually put you back over what you had before. For this to happen, you will usually want to score one of the bonuses, but not all of them are created equal. The multiplier ones rely on winning that spin, which isn't at all guaranteed, and we had several spins that didn't reward anything which wasted the multiplier.
It's playable for $0.25 up to $25 per spin, which should cover most gambler wallets nicely. Naturally, the more money you sink in, the more you can win back, so high rollers might be in a slight advantage here, but if you like to bet big, there are other games that are more inclined to pay out more if you're really seeking the thrill of a big win.
Jackpots & Progressives
There's no progressive jackpot at work in RoboCop. And with the amount of dead spins found during the normal gameplay, the title becomes a test to see how much you can offset your rapidly mounting losses. We're not sure if it was a glitch or an intentional design choice, but the slot didn't show us our balance, and we have a sneaking suspicion it's meant to keep you in the dark how much you're winning or losing in order to draw you in to play longer.
As such, when the special features appear, you want to pick either the big Wild in the middle or the one which puts Wilds all over the reels. Both more or less guarantee wins and can usually get you out of the hole your normal spins will no doubt have put you in.
Bonus Games & Sign-ups
There are no real bonus games beyond the Scatter collection. Overall, we feel this is a good thing, but perhaps another little distraction or two might not have been bad.
Game Screenshots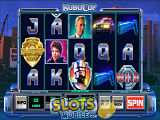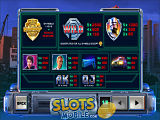 Where to Play RoboCop
You might also be interested in these articles