Mobile Slots
Games
Queen of Gold on Mobile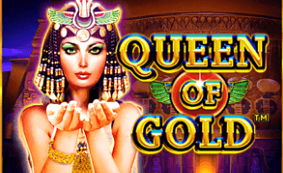 | | |
| --- | --- |
| Provider: | TopGame |
| Paylines: | 250 |
| Scatter Symbol: | Yes |
| Jackpot: | Yes |
| | |
Where to Play Queen of Gold
Queen of Gold Mobile Slot Review
Take a journey to the lands of ancient Egypt in which pharaohs ruled and built great wonders that still cause many to travel and visit them. With ships sailing down the Nile river, and the mighty pyramids piercing the skies with their height, as a gentle wind blows to push the boats along their journey. Queen of Gold is a 5 reel, 25 payline slot that has a fair mix of interesting and annoying mechanics that probably sounded really good on paper, but failed to live up to their expectations, proving just to be a frustration to the player.
We'd like to fault Pragmatic Play for including gambling icons into the mix, but when there is more unique artwork than card symbols, can we really? Q, K and A are well stylised, fitting right in next to the carved statues of Horus, Bastet, Anubis and Cleopatra, all of which are divine figures in the old Egyptian religion.
Scatters come in the shape of a pale blue pyramid, with a bright glow behind it. Unlike in certain other releases by same developer, Scatters aren't that interesting. There is no cash bonus to them, and they have to appear in the first, third and fifth reel at the same time to trigger 10 free games. The bonus can be reactivated over and over, which makes it nice, but quite a rare occurrence.
Equally, Wilds just do their job of replacing all icons except for Scatters. The real meat of special features instead, falls onto the sixth reel, which adds multipliers to the slot, making each win potentially more potent than the last, and the ability to increase said multipliers in a progressive fashion. In our experience, these special features are very powerful, but come off as quite annoying to activate due to how they are triggered in the first place.
How to Play Queen of Gold
The visual style of this game is fantastic. The symbols have high quality artwork done, the animations are smooth and the soundtrack helps evoke that sense of old mystery waiting to be uncovered. We really have no complaints as far as graphics go. While there are other developers that try to squeeze more out of their slots, Pragmatic Play focuses on making gameplay feel smooth over visual effects and we quite appreciate that about their releases.
In fact, Queen of Gold also shows off a wide betting range, from $0.25 up to $125. This should appeal equally to high and low rollers, giving them both a reasonable choice in how they play. As always, the game also allows you turn quick spins on or off, as well as to disable the intro screen and music.
Jackpots & Progressives
While the nature of slots is to be luck based, Pragmatic Play's release is perhaps even more so than usual. The wins you can get in Queen of Gold are not solely dependent on what you win on the reels, but also where on the reels you selected, and what multiplier falls on the sixth special reel.
If a win happens on the same reel as where you placed your selection, the multiplier will apply to your win and increase it. This can feel frustrating to the player as you will always have that sense of disappointment if you move your selection and a winning combination runs through in the place you had just selected before.
Bonus Games & Sign-ups
You get 10 free spins out of the game, but even that is not guaranteed to bring you large wins. While it certainly can, in our experience, we found free spins to be rare and not as well paying as the upgraded sixth reel could.
That said, upgrading said sixth reel to increase the multipliers on it is a royal pain. You essentially need to play whack a mole for Cleopatra icons on the reels by tapping on one spot in the playing field, but at least in whack a mole, you see where the mole appears before you try to hit it. This is laying your hammer on a hole and hoping the mole hits its head on it trying to get out.
And even if you do increase your level, if you don't increase it again in the next 25 spins, Queen of Gold drops you back to level one all over again. While a joker icon is present on the sixth reel that can immediately upgrade you, it is too rare to reliably use this special feature.
Game Screenshots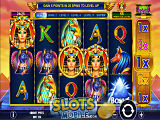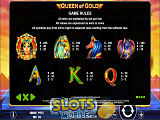 Where to Play Queen of Gold
You might also be interested in these articles