Mobile Slots
Games
Purrfect Pets on Mobile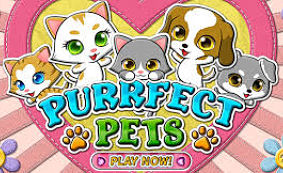 | | |
| --- | --- |
| Provider: | RTG |
| Paylines: | 25 |
| Scatter Symbol: | Yes |
| Jackpot: | Yes |
| | |
Where to Play Purrfect Pets
Purrfect Pets Mobile Slot Review

There's lots of cute kittens and dogs out there on the internet. Fair to say most people will crack a smile when they see either of those doing something different or interesting, but at a certain point, just sticking them everywhere and trying to make a sale doesn't really work out that well. And that's a good way to look at Purrfect Pets, a slot that took the cutesy art that seems popular nowadays and decided to double on everything. We aren't pleased with how it turned out. The sounds of kittens and dogs is overbearing as it occurs in nearly every single spin, the visuals look like someone ripped off a book for children, and the whole thing really feels bizarre rather than appealing.
That said, there's some interesting things about this RTG release. While the 5 reel 25 payline setup is rather regular, the fact you can increase or decrease the amount of active paylines is something you see less and less, which can be helpful to gamblers with less money to spend. On top of this, there are three special features, all of which are a slight variant on the free spins bonus that the game offers you. As such, the gameplay potential is there, it's just the matter of getting to it that's the issue.
How to Play Purrfect Pets
As you know, we here at SlotsMobile try our best to give you the best tricks you can use to maximize your enjoyment of playing a slot. And here's one of the best things you can do to make Purrfect Pets more bearable – turn off the sound. We're amazed this got past their QA, but the sound of cats and dogs constantly coming out is just annoying beyond words. The over the top cutesy theme hardly helps matters either, but we already said what we had to say up above on that topic, and we don't want to repeat ourselves.
Personally, we think that this game would have been a lot more enjoyable if it wasn't so visibly juvenile. The gameplay systems in play aren't particularly life-changing, but the special features and progressive jackpot certainly stand to make things interesting if you let it. We had some okay scores during normal gameplay as well, which can work out in your favour some times, but you will mostly be bleeding money outside of the special feature wins.
Jackpots & Progressives
There are two progressive jackpots ticking above the reels. One of them is deemed minor, while the other is major, and there's usually a fair bit of difference between them. There's few things that can prompt gamblers to empty their credit cards as easy as progressive jackpots do, and we imagine in the quest to win it all, you might end up losing a bit more than what you bargained for.
Beyond the progressive jackpots, however, Purrfect Pets also offers three special features that can allow gamblers to bounce back after a series of losses. For us, the results were mixed. We had some decent wins and a regularly enough frequency playing it once, and the next day, we went through three hundred spins while seeing just one bonus. Talk about bad luck!
Bonus Games & Sign-ups
Three or more doggy Scatters activate the Doggy Dollars special feature. It rewards 10 free spins, all prizes are doubled while the extra turns are happening and all Scatters act as Wilds for the duration of the bonus. You can retrigger it by getting three or more Scatters again.
Meanwhile, the Wild Cat special feature works in much the same way. For three or more Wilds, you get ten free spins. This time around, when a cat Wild is part of a winning combination, that score is immediately tripled. Scatters don't appear while this bonus is up, but it can be retriggered by getting three or more Wilds.
Finally, there's the Random Riches special feature, that's essentially a mixture of the two. You can get between 7 to 50 free spins on it, all prizes are doubled, or go up to a 6x multiplier when a Wild is part of the winning combination. Scatters act as Wilds for the duration, and ten additional spins are rewarded if three or more Wilds or Scatters appear at the same time. However, the only way to trigger this one is by pure random chance, when the Cats vs Dogs bonus randomly activates on the end of any normal game that doesn't trigger Doggy Dollars or Wild Cat.
Game Screenshots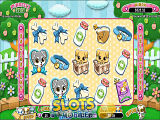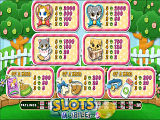 Where to Play Purrfect Pets
You might also be interested in these articles