Mobile Slots
Games
Poke the Guy on Mobile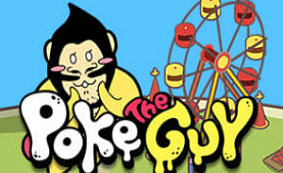 | | |
| --- | --- |
| Provider: | Microgaming |
| Paylines: | |
| Scatter Symbol: | No |
| Jackpot: | Yes |
| | |
Where to Play Poke the Guy
Poke the Guy Mobile Slot Review

We're usually the first ones to praise innovating in the field of slots. Cluster pays and rolling reels are some of our favourite combinations, and are relatively new inventions on the slot market. At the end of 2017, NetEnt's Finn and the Swirly Spin turned the concept of paylines on its head, and even before that, we gave Mega Money Rush, which was produced by Microgaming, a stellar review. But Poke the Guy isn't like any of these games. This slot is more reminiscent of the old titles where you only have a single payline and three reels and your only option is to keep spinning and hope for the best. It has no special features to speak of and it ditched the core concepts of paylines, reels, Wilds and Scatters. Mega Money Rush did that as well, but it made a fun game out of it. Poke the Guy is not a fun slot.
You're given an array of different things to throw at the Guy and it will affect how much money you spend on each 'spin'. You can adjust your wager on top of that to determine how low or high you want to go. The good thing about this is that the Guy reacts differently to each thing you hit him with, which will provide you with a grand total of 30 seconds worth of entertainment before you start asking yourself why you even opened this slot. It essentially boils down to clicking the slingshot and hoping you hit the Guy. If you do, you win a prize between 2x to 18x your wager, with 500x standing on top of all that as a jackpot. At the very least, Microgaming was gracious enough to include the option for turbo play, so the time you spend waiting for animations is not too long.
How to Play Poke the Guy
Visually speaking, the slot seems inclined towards an anime style for the Guy, and the rest of it follows a relatively simplistic, cartoonish look. The Guy is supposedly terrorising the city and we can sympathize with the citizens. If we saw a giant idiot striking poses and making dumb faces, only to be chopped up by a giant knife, we'd be equally annoyed and frightened as well. If there's one thing we can commend Microgaming on, is that they successfully made the Guy as annoying as humanly possible, as his idle laugh only stacks on our utter disappointment with this title and makes us want to throw things on him all the more.
But the gameplay is boring. There's no getting around this fact. This isn't like Finn and the Swirly Spin or Mega Money Rush where the changes were made to make things interesting. Those titles had special features, unique interactions, things which justified breaking the formula. Poke the Guy has you clicking one button over and over, and since where your throws will land is entirely random, your involvement there is minimal. There's nothing to look forward to except random chance, no rush in your gut when you have two Scatters and the third one looks like it's about to land. The only thing you have to look forward to is the slim possibility of winning 500x your wager, and the Guy's stupid face.
Jackpots & Progressives
There's no progressive jackpot in Poke the Guy. The only real jackpot you have is the 500x win that comes entirely random. Other prizes include 2x, 4x, 8x, 12x and 18x your total bet. With no special features, those are all the options you have at your disposal.
Bonus Games & Sign-ups
The Microgaming's release has no special features and it direly needs some. Poke the Guy wouldn't be half as bad as it was if it had some bonuses, something to break up the monotony, something to make it interesting to play. Without bonuses, it is utterly boring to play, and we would not recommend trying it.
Game Screenshots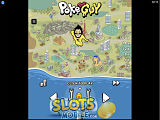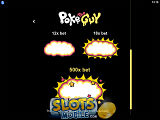 Where to Play Poke the Guy
You might also be interested in these articles