Mobile Slots
Games
Pixie Wings on Mobile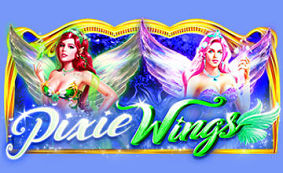 | | |
| --- | --- |
| Provider: | TopGame |
| Paylines: | 50 |
| Scatter Symbol: | Yes |
| Jackpot: | Yes |
| | |
Where to Play Pixie Wings
Pixie Wings Mobile Slot Review
Pragmatic Play is a slot developer you can rely on to release something safe and quality. As ideas for new games seem to be going into a whole different territory than what we've seen before, Pragmatic Play has mostly stuck to the things they know work. Pixie Wings has 5 reels, 50 paylines, Wilds and a Scatter-activated free spins feature with a little twist. Nothing new, but they always do the classics nicely. As such, from the moment we started up the slot to finishing it a lot of spun reels later, we knew it would earn our recommendation.
The theme this time around is pixies. Fun, magical creatures with wings that live together with nature and zip around to have all that good, wholesome fun. As such, you'll have two handsome male pixies and two gorgeous female pixies appearing on the reels, usually in a stacked form. The slot even mentions a mystery stacked symbol appearing before being revealed, but that doesn't seem to have carried over into the actual game, as Pixie Wings doesn't have any mystery icons. The good news is that its symbols certainly have the tendency to clump up and appear stacked.
This stacked nature makes the free spins special feature all the more exciting when it happens. Activating it is standard enough as you need three Scatters to appear on the reels. However, it's the twist afterwards that really makes it fun. Within it, you pick one of the four pixies to appear super stacked on the reels, and the more valuable the pixie, the less free spins you get. You can also decide to go random, which randomizes both the pixie and the amount of free spins, so you could technically end up with the elder pixie and 12 free spins, but from our experience, it usually ended up with less free spins and less valuable pixies. However, the feature always paid us quite nicely, so we won't complain.
How to Play Pixie Wings
Despite how colourful it looked the first time around, the theme doesn't jump out to us as childish. In fact, when some of the pixies appear in full body length, you may want to cling your phone or tablet a bit closer to yourself if there's someone who can peek over to take a look at your screen! There's no denying the visuals are well done, and while they don't stand out that much, they do their job quite well.
Meanwhile, on the gameplay front, it follows the standard pattern of whipping your wallet during normal gameplay and then showering you with prizes during the bonus. From our experience, you'll be bouncing between highs and lows as Pixie Wings takes you on its magical journey. But despite all of this, the volatility seems rather low, which is unfortunate, but not unexpected for Pragmatic Play.
Jackpots & Progressives
There's no progressive jackpot in this slot, and we honestly can't say we felt a need for one to be there. The title has a nice ebb and flow to it, and whether you're on a winning or losing streak, the thought of having a jackpot ticking away was never in the back of our heads. Although it might have made the low payouts a bit easier to stomach, but in that case, a lot of developers would have to move onto progressive jackpots.
Outside of that, the obvious earners are the free spins. We spent a lot of time spinning the reels, and we haven't seen Pixie Wings really pay anywhere above 10x stake if a free spin wasn't involved and it usually ended up cashing out for much less, sometimes even less than the wager.
Bonus Games & Sign-ups
Apart from the free spins, there aren't any other special features to note. It's a one trick pony, but a very enjoyable one at that.
Game Screenshots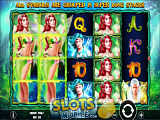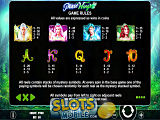 Where to Play Pixie Wings
You might also be interested in these articles