Mobile Slots
Games
Panther Queen on Mobile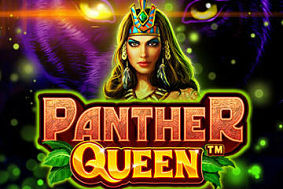 | | |
| --- | --- |
| Provider: | TopGame |
| Paylines: | 25 |
| Scatter Symbol: | Yes |
| Jackpot: | Yes |
| | |
Where to Play Panther Queen
Panther Queen Mobile Slot Review
In the depths of a jungle, various beasts lurk and wait. Some seek out fruits to feed themselves, while others stalk smaller creatures to bring them down. Reigning from the top are the panthers, but even panthers have their ruler, their queen. It's just that most people wouldn't expect it to be a gorgeous human rather than a massive panther. In a Tarzan-like spin, she reigns over this 5-reel, 25-payline slot from Pragmatic Play, appearing as the title's Wild symbol, the highest fixed jackpot, and to oversee the bonus sixth reel that can award free spins and multipliers to all wins.
The graphics are very smooth and enjoyable, even if they don't push the margins that much. There's not much in big animations when wins happen, and even then, most scores will occur on lower paying icons which aren't that interesting to watch, given they are poker card symbols. The rest of the visuals are a lot more interesting. The thick jungle background with rustling leaves, the various animals and the panther queen all look far more fitting into their environment than the card icons.
The big appeal of the game is the sixth reel, which ties into Scatters. Scatters can only appear on the sixth reel, alongside all the multipliers there, and as such, your odds are winning free spins that are attached to Scatter are both better and worse. Better, because you only need one Scatter instead of several, worse, because Scatter has to compete with ten multipliers to have a chance at appearing. For your troubles, you win 5 free spins, in which the second, third and fourth reel melt together to form one giant icon, which increases your odds of winning.
Meanwhile, Wilds use one of the two highest paying symbols, Panther Queen herself, to represent itself. If you've been hoping for a good look of her, you can! If Wild appears in the middle of the reels, it spreads to cover the entire reel, giving you both something to enjoy looking at while increasing your odds of winning.
On top of these two special features, the sixth reel can also add on a multiplier to all wins which can go from a 1x to a 10x increase. This can shift and change even usually disappointing wins into something a bit more encouraging.
How to Play Panther Queen
The slot's sixth reel helps to diversify the playstyle a fair amount. While the idea itself isn't new, the implementation is well done and gives opportunity for some real increases that will leave gamblers impressed if they manage to get it. It does a good job at forgoing traditional Scatter mechanics while still keeping it all about luck.
Players looking to score here will need luck. The lower paying end of the game is really boring and the highest wins can't go higher than 400x, as the developers had to consider the multipliers from the sixth reel. On top of that, you can play Panther Queen for $0.25 up to $125, which should give more casual players and serious gamblers a chance at trying it out.
Jackpots & Progressives
Unfortunately, there is no progressive jackpot to work towards and the initial fixed jackpot seems disappointing. The paytable isn't that great, admittedly, but it is scavenged by the fact the sixth reel is full of multipliers that will usually give you a boost. It doesn't save the poker card icons, which hardly give you an increase, but you can't argue with the results when the 400x fixed jackpot turns into a 4,000x one.
Beyond the sixth reel bonuses, you can score some nice wins through free spins and Wilds being in the right place. At most, Wilds managed to score us a 60x win, while we haven't been able to activate the extra rounds, which seem quite a bit rarer compared to their Wilds counterpart.
Bonus Games & Sign-ups
You can score 5 free spins by landing one Scatter on the bonus sixth reel. The second, third and fourth reel will transform into one mega symbol, which increases your odds of winning.
Game Screenshots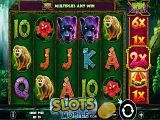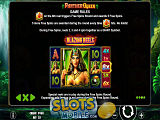 Where to Play Panther Queen
You might also be interested in these articles