Mobile Slots
Games
Panda's Gold on Mobile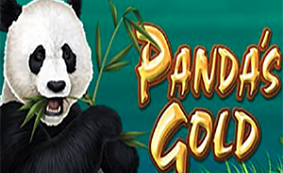 | | |
| --- | --- |
| Provider: | RTG |
| Paylines: | 88 |
| Scatter Symbol: | Yes |
| Jackpot: | Yes |
| | |
Where to Play Panda's Gold
Panda's Gold Mobile Slot Review

If Chinese slots are your thing, we're happy to inform you that RTG has lined up yet another one for your enjoyment. With the name like Panda's Gold, the theme is obvious. It sets itself in a very idyllic Chinese temple somewhere in the lush countryside. There are sadly not too many pandas to gawk at, despite the name. Ever since the Chinese government set down the barrier and allowed slotmakers to sell to their market, they've been hard at work to create things that will draw interest to the massive new audience. Judging by the constant stream of Chinese-themed slots ever since, it's clearly worked. Credit where it's due, Panda's Gold by RTG manages to avoid the most common trappings of these slots. It's not painted red and gold all over, for starters.
It's played on a 5×3 playing field with 88 fixed paylines, while the wagers are set as if you're playing a 50 line title, which is added value no matter how you look at it. Wilds only appear on the third, fourth and fifth reel, but have no real special feature of their own. Instead, it's the free spins that are the rock stars of this title. For starters, if you get a three-Scatter activating, you receive a free re-spin to potentially upgrade your feature into a four-Scatter activation and then for a five Scatter one if the first one succeeds. Depending on how many Scatters you activate, you receive a multiplier on all wins with Wilds. 3x for three Scatters, 8x for four Scatters and a 5x multiplier for all wins if you activate the free spins with five Scatters. An additional 8x multiplier for any prizes that include Wild is granted, and, yes, these do multiply off each other for some hilariously unbalanced wins, making this one of the rare titles in which RTG's limit of 50,000x per payline makes sense for.
How to Play Panda's Gold
We've already mentioned this before, but RTG titles aren't graphics powerhouses. There's a bit of extra effort here, as you have small leaves falling down the reels and in the backdrop, helping to give the title a tranquil, relaxed look without making things too taxing. The only downside to the effect is that it may be lost in translation on some smaller phone screens. The symbols themselves look rather nicely, though some fit better than others – one look at the reel and the playing card symbols in all their multi coloured splendour should tell you as much. We usually don't mind these, but considering the Zen vibe they're trying to achieve here, it's really counterproductive.
On the gameplay side of things, you should expect a high volatility title with a 96% RTP, which is slightly above average for video slots. Still, it's the first part that you should focus more so than the second one. The features we've already mentioned are clearly very lucrative, but you need win those upgrades, or win a five-of-a-kind Scatter score to land the best one, and even then, we've had free spins that are total duds and barely rewarded anything. You better prepare for your pockets to take a beating before you win big.
Jackpots & Progressives
There are no progressive jackpots in Panda's Gold, but with the free spins being what they are, they're entirely unnecessary, as far as we're concerned. With 88 fixed paylines, a permanent 5x multipler and Wilds just happen to land somewhere else to add a 8x multiplier on top of that? It wouldn't surprise us that you could get close to the RTG's limit of 50,000x per payline if all the stars align properly.
Bonus Games & Sign-ups
There are no additional special features in RTG's release.
Game Screenshots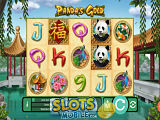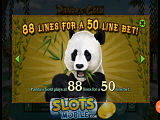 Where to Play Panda's Gold
You might also be interested in these articles