Mobile Slots
Games
Panda's Fortune on Mobile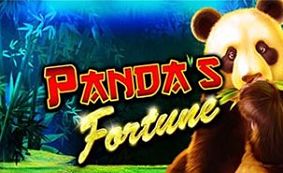 | | |
| --- | --- |
| Provider: | TopGame |
| Paylines: | 25 |
| Scatter Symbol: | Yes |
| Jackpot: | Yes |
| | |
Where to Play Panda's Fortune
Panda's Fortune Mobile Slot Review
The latest release from Pragmatic Play is an Asian- themed title that's all about pandas. And let's be honest, who doesn't love pandas? They're giant, loveable bears, they're iconic as the symbol of the WWF, and as instantly recognizable as they are, it's no surprise they've been picked as the mascot of this release. From the get-go, the developers let you know you're in for a thrilling, high volatility title. The gameplay is centred all around three fixed jackpots, which aren't hit randomly, but instead, use a specific five-of-a-kind win to make sure that the jackpots get properly more and more difficult to win the more valuable they are.
Panda's Fortune has a 5×3 playing field with 25 paylines, and while it doesn't have many special features, the jackpots are what makes this game worth playing. You have the standard free spins which are activated by a certain amount of Scatters, and you get additional extra spins and a cash prize if you get more than three Scatters. It is possible to get additional free spins if you get three or more Scatters while the bonus is active. Additionally, all of the symbols except the Scatter have a golden version which can appear on reel 5. Those golden symbols are important to triggering the fixed jackpots, so keep an eye out for them.
How to Play Panda's Fortune
The visuals look okay, but they're nothing to write home about. The unique symbols are certainly rather intricate, and there's a lot of small detail put on them to really make them stand out, but the remainder of the icons fall into the familiar territory of taking poker card symbols and giving them a slight reskin to make them fit into the theme, which, in this case, is an Asian slot. So our rating on the graphics would be middle to high, with the poker card icon laziness bringing it down a few notches.
On the gameplay front, you'll probably enjoy this if you prefer more long, drawn out sessions and waiting out your wins. Make no mistake, this is a super high volatility title, as the wins outside of the jackpots are honestly lacklustre. Any sizeable cash score will come from the highest jackpot, or by triggering free spins with five Scatters. We quite enjoyed our time with it, although it goes without saying that you should pad your wallet before going for this, because outside of winning jackpots, there's little in terms of value in Panda's Fortune.
Jackpots & Progressives
Despite having three jackpots in total, none of them are progressive. The highest is always 800x your wager, the medium is 200x, and the minor is 25x total bet. The pricing is based on how difficult they are to trigger. As such, the minor jackpot requires a five-of-a-kind win with any symbol, a golden icon on the fifth reel, and allows Wild substitution. The medium jackpot can only be activated by lower paying symbols, and does not allow for Wild substitutions, while keeping the golden icon requirement. And finally, the highest jackpot requires you to score a five-of-a-kind win with higher paying symbols, with no Wild replacements, and a golden icon on the fifth reel. It's possible to win up to 25 jackpots on a single spin, which indicates you could potentially hit more than one, though we've sadly been unable to replicate the kind of luck required to do something like that.
Bonus Games & Sign-ups
The only special feature beyond the jackpot triggers is the free spins bonus, which we already mentioned up above. Both of the features are difficult to hit, but have a good payout, so it's rather important that you hit them. While there are certain slots that can be profitable without hitting any bonuses, this isn't one of them.
Game Screenshots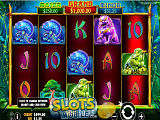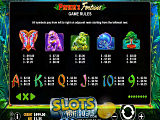 Where to Play Panda's Fortune
You might also be interested in these articles