Mobile Slots
Games
Oink Country Love on Mobile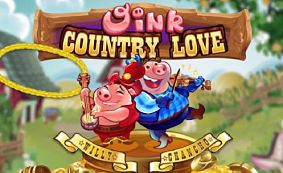 | | |
| --- | --- |
| Provider: | Microgaming |
| Paylines: | 45 |
| Scatter Symbol: | Yes |
| Jackpot: | Yes |
| | |
Where to Play Oink Country Love
Oink Country Love Mobile Slot Review

More cutesy stuff coming out of Microgaming, and this time, we're dealing with a farm full of animals. Far from the regular types, however, these animals have definitely been anthropomorphised. You follow along a pair of country signing piglets on their tour of the barn house, and they're a popular group, judging from all the swooning animal fans you find on the reels. I think this slot made us ask some questions we really didn't want to ask. It offers 5 reels and 45 paylines, and offers gamblers a free spins special feature, alongside two Wilds that can mix with each other to complete wins, although when they mix, they pay less money.
The creepiness of interspecies animal romance left aside, Microgaming did make it look rather nice. The animations are quite smooth, the user interface is clean and crisp, and it played rather smoothly on our phones. That said, much like we mentioned earlier, we're not sure exactly who these games are geared towards. These symbols look like something out of a children's drawing book, so the publishers have gotten themselves a very young audience when no one was looking, or they've simply decided to make them like this for a reason we can't really tell.
Wilds and Scatters both make an appearance and have a little bit of charm applied to them. There's not one, but two Wilds, to represent the country singing pig duo. Like ordinary Wilds, they pay a little bit, they can replace any icon except for the Scatter, but similarly to The Heat Is On, those Wilds can mix with one another to complete wins, although they reward less money in that case. Scatters, meanwhile, do the usual song and dance where they ask you to collect a certain amount to reward free spins. And while Scatters reward a cash win from any position, if you want the extra turns, you have to array them properly from left to right, due to the fact they can appear stacked.
How to Play Oink Country Love
Given that it's Microgaming, we're certain not too many people are surprised when we say this slot is low variance. Not that it has any issues letting you sink yourself into a minus with dead spins while giving you piss poor earnings for the most part. If you're hoping to walk off with a decent win, it requires so much effort that it absolutely is not worth it. The mixed Wilds allay this somewhat, but even then, it's just a band aid fix for a problem the developers don't want to solve, and that's the lousy paytable.
And despite only having 45 paylines, your minimum wager is $0.50 per spin, going up to $125 at the maximum bet. Not that we can recommend that you play it for that much, seeing as a return of investment is highly unlikely. In fact, we'd just suggest not playing it, period.
Jackpots & Progressives
There's no progressive jackpot available in this game, and as we mentioned above, the earnings you can get are lousy. For a five-of-a-kind Wild win, you only get 20x your wager, and that's not counting if the Wilds mix, because at that point, it drops your win by half. Best we can tell, Oink Country Love seems to be created with the intention of seeing constant small wins to offset losses.
But we simply don't see that happening here. You lose money far quicker than you earn it, and both free spins and mixed Wilds do very little to dissuade that. At the end, it all ties back down to the core problem with the slot, and that's the paytable being utter rubbish.
Bonus Games & Sign-ups
Beyond the free spins and mixed Wilds, there are no other special features to talk about. Perhaps it's for the best – maybe Microgaming will save them for a game that's a bit better than Oink Country Love.
Game Screenshots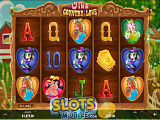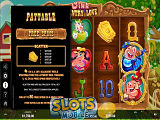 Where to Play Oink Country Love
You might also be interested in these articles