Mobile Slots
Games
Ogre Empire on Mobile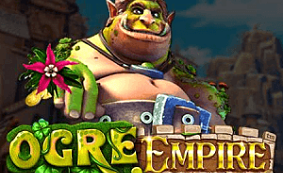 | | |
| --- | --- |
| Provider: | BetSoft |
| Paylines: | 25 |
| Scatter Symbol: | No |
| Jackpot: | Yes |
| | |
Where to Play Ogre Empire
Ogre Empire Mobile Slot Review

When we first launched Ogre Empire and saw that large, fat green guy sitting relaxed on top of someone's house, we were in absolute awe at the size of that lad. Then we were impressed by ogre ingenuity – why waste enslaved humans to build a throne when you can just sit on top of their buildings and smack them with your giant club if they try to misbehave instead? We didn't expect much visually, but there are some small things which we quite liked that helped put this Betsoft release a lot higher than what we expected for it. A game that respects the fast turbo play means all animations play faster, the hilarious animation of the ogre whacking the reels with his club when a feature is triggered and the fact that even the logo looks like an ogre is encroaching on top of it.
Of course, it's not all visuals that are impressive. On the surface, Ogre Empire offers gamblers a 5×3 playing field with 25 fixed paylines, which is relatively standard. Where it shines are the special features it offers. As you'd expect in any hostile takeover, the royalty has gone underground, and they only come out at night – so you have two game modes to play around with. During the day, you can find the Sun Bloom flower which grows onto nearby symbols, turning up to three of them into Wilds. Furthermore, at any time during the day, the ogre will smash the lower paying stone symbols and new icons will fall into their place, awarding new wins. To switch to night-time, a 3×1 moon symbol needs to appear on the third reel and to go back to daytime, a 3×1 sun icon needs to stretch across the third reel. During night-time, the low paying stone symbols turn into the Jester, Queen and King, which means our big, green buddy was unknowingly committing regicide all this time. During night-time, instead of Sun Blooms, you will find Night Blooms, which can expand onto other icons, turning up to three of them Wild.
How to Play Ogre Empire
While we mentioned there are some things we like about the graphics, it's not all perfect. The ogre makes some idle animations, but at times, he just sits completely still, not even showing signs that he's breathing. A small detail like that could have gone a long way into making it look better. And while we're not big fans of letters being used as symbols, the fact they transform into royals at night makes it more bearable on our end. Still, despite the flaws, we're in love with how Betsoft did the graphics.
On the gameplay side of things, Ogre Empire doesn't really hide the fact it's focused around the special features. The day and night time switch is a fun adjustment, because it deprives you of the ogre's special feature, but in turn, it reveals the royals who pay substantially more than their stone letter counterparts during the day. With some lucky Wild positioning, it is possible to get a good win even without the cascading reels the ogre causes when he's triggered, but from our experience, until the club starts swinging, profits are only at decent levels.
Jackpots & Progressives
There's no progressive jackpot in the Betsoft release, which we feel is generally a good thing, as it would detract from the fun of the title. The features would have to hit a lot less, which would mess up the enjoyment of everything. If you're looking for solid wins, they mostly depend on things lining up correctly. Either the flower at night alongside good royals placement or the ogre smacking the reels at the right time to double-dip a win.
Bonus Games & Sign-ups
You can also double-up any wins. It takes you to a separate screen where you can flip a coin and choose heads or tails. If you guess correctly, you double your win, but choose wrong and you lose it all. However, you can bet only 50% of your win, making it less lucrative, but safer.
Game Screenshots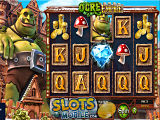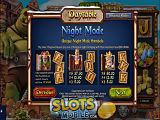 Where to Play Ogre Empire
You might also be interested in these articles