Mobile Slots
Games
Monster Wheels on Mobile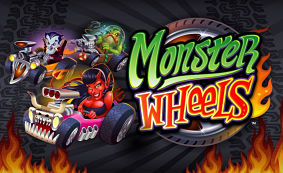 | | |
| --- | --- |
| Provider: | Microgaming |
| Paylines: | 128/288 |
| Scatter Symbol: | Yes |
| Jackpot: | Yes |
| | |
Where to Play Monster Wheels
Monster Wheels Mobile Slot Review

What do you get when you combine famous monsters and powerful vehicles that would be the envy of car enthusiasts everywhere? You get Monster Wheels, a slot with a rather unique payline setup that works that interesting mixture between horror and cute that we've seen become somewhat popular over the Halloween season with games like Bubble Bubble 2 being a good example. While we have no proof, this does seem like the sort that the developers might have released as a Halloween contender, if it weren't for the deal they struck to make a tie-in with the 1978 movie called, well, Halloween.
Monster Wheels, regardless, feels like a finished product, even if it could maybe have used one more special feature or a bit more polish here and there. As of right now, three Scatters on reels 1, 3 and 5 will grant you a pick between whether you want 12 free spins with a 2x multiplier, 6 free spins with a 4x multiplier, and 3 free spins with a 8x multiplier. And while additional Scatters can add more spins, or retrigger the feature entirely if you get all three, it doesn't change the fact that Monster Wheels feels like it could benefit from maybe a little bit more for gamblers to try out. As it is currently, it feels just a little bit lacking, and we wonder if it really was pushed out earlier than intended for a bit of pre-Halloween hype.
How to Play Monster Wheels
It's very unique visually, we have to give credit. The monsters themselves are distinct and draw your eye easily. A mummy, a sea monster, a vampire, a werewolf, Frankenstein's monster with his hilarious pink car and a devil girl with a generous pair of wheels on her car. But just as it is successful there, it also falls flat with its other icons. A, K, Q, J, 10 and 9 lack any of the unique design or charm of the racers, which brings some style points down immediately and there's also the fact all the racers pay the same amount – while not interacting with each other at all, which can be a source of annoyance more than a few times. We really would rather have had just those six racers, but each of them to have a bit of a unique flair or interaction.
And when it all comes together, Monster Wheels feels like it could use a bit more of something to do. As most of its rivals are incorporating several bonuses and various ways to pull in gamblers, this slot just feels like it falls a bit from being able to achieve that. Mind you, there's nothing wrong, by itself, with the game. But it also doesn't help that the gameplay loop feels a year or two behind the times currently. We can't really pinpoint exactly what it is that feels awkward about this title, but it does need some more work.
Jackpots & Progressives
While there's no progressive jackpot waiting around the corner, the different structure of paylines is really a saving grace, as it adds a bit of uniqueness and flavour to a title that'd otherwise be average. That said, no matter if you play on 128 or 288 paylines, there's a good chance that neither one will really be that one thing you want to scratch your itch without the help of the Scatters.
Scatters can only appear on the first, third and fifth reel and you need all three to appear at once to summon a special feature. In our experience, without these assisting you, Monster Wheels wouldn't really have any big hits. With this, you can pick the balance between multiplier and the amount of spins, which can add some tactics, so if you're feeling lucky, you can risk more with less free spins and a stronger multiplier. And if you're feeling unlucky, well… should you really be gambling at all?
Bonus Games & Sign-ups
Apart from the free spins special feature, there are no other bonuses in the game.
Game Screenshots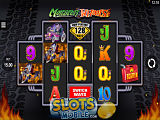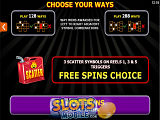 Where to Play Monster Wheels
You might also be interested in these articles