Mobile Slots
Games
Monkey Madness on Mobile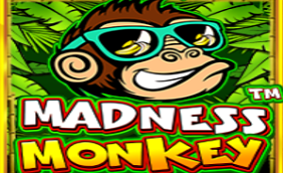 | | |
| --- | --- |
| Provider: | TopGame |
| Paylines: | 9 |
| Scatter Symbol: | No |
| Jackpot: | Yes |
| | |
Where to Play Monkey Madness
Monkey Madness Mobile Slot Review
Jungles, monkeys and bananas are all familiar staples at this point. There's no great theme to reel you in. Pragmatic Play's recent releases seem to be more inclined towards more classic titles, that include smaller playing fields, few, if any special features, and simplistic visuals that live up to the name fruit slots, as the games are called in the United Kingdom. And yet, while we enviously stare at that cool monkey and his even cooler shades, we can't help but feel like the developers made a misstep with this release following up the generally enjoyable Triple Tigers that they launched before this title. Both seem similar enough on the surface, certainly, and while you have some small gameplay changes in Monkey Madness, they aren't balanced so well, leading to a generally much less enjoyable experience that will swallow your cash before you can even notice what's happening.
Pragmatic Play's release offers gamblers a 3×3 playing field with 9 fixed paylines. It sits at a low to medium volatility, and it has a single special feature. The aforementioned cool monkey is Wild, allowing it to replace other symbols. Alongside that, if Wild is part of any winning combination, it triples the value of all symbols in it. And if you have two Wilds that are part of a win, the prize is increased nine times. It all sounds great on paper, but it doesn't work out that way. The pays for mixed symbol wins are naturally lower to make up for the presence of Wild, but Monkey Madness still has a lot of dead spins, which bleeds your money very quickly, while you don't make nearly enough back to balance it. So you're fighting a losing battle that you can only break by winning three Wilds at once, which is about as common as you would expect it to be – not at all.
How to Play Monkey Madness
There's not even that much to talk visually about. You have some boring, green canopy in the backdrop, with bamboo reels and a variety of symbols to fill up the reels. Cracked open coconuts with a straw, bananas and pineapples litter the screen, with an occasional appearance of toucans and cash drums and the monkey acting like Wild. It doesn't look bad visually, but it doesn't look great either. It just feels like they reused some assets they had lying around to quickly put it together.
On the gameplay side of things, Monkey Madness has a low to medium volatility and a 96.53% RTP, which is a figure we really have a hard time believing. As we already mentioned, Wilds and their multipliers aren't doing enough to pull this game up. Even when they appear, they don't bring nearly a big enough win to balance for all the dead spins and cash loss you will get until that point. Either Wilds need to appear more often, or symbols need to pay more cash, because as it stands right now, it's just a matter of time before you run out of cash.
Jackpots & Progressives
There's no progressive jackpot in Monkey Madness, and we don't feel that it being there would really have helped matters. The core of the problem is that wins aren't nearly good enough. We understand they can't pay as well as Triple Tigers because of Wild being present and potentially tripling all wins, or even more if two Wilds are part of a win. But at the same time, the only time your score goes above 100x wager for a win is when you get three Wilds at once, which is extremely rare. But as it stands now, it just fails to be interesting enough with the wins to be worth considering.
Bonus Games & Sign-ups
Apart from Wild and its associated multipliers, Monkey Madness has no other special features.
Game Screenshots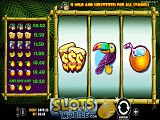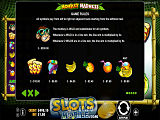 Where to Play Monkey Madness
You might also be interested in these articles