Mobile Slots
Games
Mega Money Rush on Mobile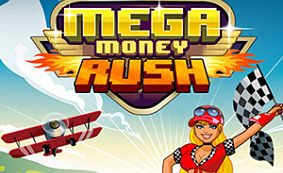 | | |
| --- | --- |
| Provider: | Microgaming |
| Paylines: | |
| Scatter Symbol: | No |
| Jackpot: | Yes |
| | |
Where to Play Mega Money Rush
Mega Money Rush Mobile Slot Review

It's not often that we run into something that really pushes the boundary of exactly what a slot is. Developers usually change things up, make minor adjustments, but usually, when you hear the word 'slot', you know exactly what to expect. Reels, features, and a bit of luck and skill coming together for an enjoyable experience sometimes, with a dashes of frequent frustration when things just don't go your way. But after playing this, it feels odd to say a developer innovates when they change up some small things – Mega Money Rush shows just how flexible the slot formula truly is.
Instead of reels, you have a single wheel you spin, taking up the luck portion of the title, which can reward you with XP, that you will need to progress through different stages, it can reward you several power-ups, a surprise that can reward a few different things, a dead spin, and a race spin. At this point, Skillzz Gaming truly live up to their name, and ask you to play a very simple, but oddly entrancing video game, in which you control a vehicle as it moves down a set of three lanes, with coins to collect and various obstacles in the way. As such, it allows skilled gamblers to increase their winnings, which is always a major plus and a huge break from tradition where the casino keeps everything out of player hands, leaving to them only to spin and sit in the edge of their seat.
How to Play Mega Money Rush
From the music, to the simplistic visuals, and even the gameplay – it all reminds us of those old video games from the eighties and nineties. There's really no other way to put in, from the slightly annoying sound each time you collect a coin, to the various stages that more or less play exactly the same – the theme of being a big racer can be immersive, but the developers made the wise call not to crank up the graphics too hard.
That said, we expected something like this to be a bit more clunky to play on tablets and mobile phones, but we were pleasantly surprised. We didn't find a way to force it into landscape mode, so you'll have to hold you device upright, but gamblers should have no issue with the simple controls that we never had much trouble with – simply swiping the screen left or right to control where your vehicle goes works great, and it never felt like we couldn't keep up the pace. This, alongside the system of unlocks as you get more advanced and difficult stages in return for greater value, means that the grind is more or less always rewarding you in one way or another.
Jackpots & Progressives
There's not much of a progressive jackpot in Mega Money Rush – if anything, the really big wins seem to be very difficult to score. As such, simply classifying where we wanted to put this title was a difficulty, but we ultimately agreed it rested on a medium to high variance, with the volatility and maximum amount increasing the longer you played it.
It's really a smart system, if you stop to think about it. As the XP gain is entirely random, you could be stuck on the first stage for a while with a lot of wins, but no way to pursue anything bigger. Alternatively, you could be unlocking stages really quickly, but losing a fair amount of cash in the process as races are, in turn, far more rarer. To balance this out, Mega Money Rush offers incentives to keep you interested in terms of special features.
Bonus Games & Sign-ups
Beyond the pickups you can win from either the wheel landing on them, or through the surprise section on the wheel, there is also a bonus that keeps you on your toes and diversifies each winning spin – which is another, internal wheel, used only when a race is won. The internal wheel determines how many chests appear, and within each chest is a more sizeable prize compared to the usual 1.5x you can win by collecting all the coins from the stage, so more is always better.
Beyond that, there is also a Bonus Race that you can win through the internal wheel, which highlights ahead of time what the maximum cash prize you can get from that particular race if you play it perfectly. Admittedly, it's tough to get a particularly good bonus race, but a 50x jump ahead of the competition is nothing to sneeze at, and it can go even higher.
Game Screenshots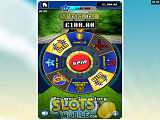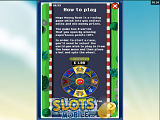 Where to Play Mega Money Rush
You might also be interested in these articles