Mobile Slots
Games
Maji Wilds on Mobile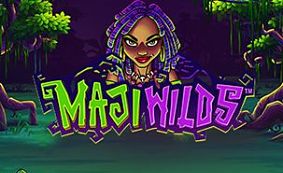 | | |
| --- | --- |
| Provider: | Playtech |
| Paylines: | 50 |
| Scatter Symbol: | No |
| Jackpot: | Yes |
| | |
Where to Play Maji Wilds
Maji Wilds Mobile Slot Review

It used to be that when humans couldn't explain something, they either labelled it as an act of God or as magic. Of course, as we've gotten more technologically advanced and educated, both seemed to become rare. Of course, they say that magic still persists in those dark and gloomy places of the world, where humans have stopped wandering. After all, even in the olden days, witches and their dark allies hid in the woods, away from decent common-folk. Not that you'd expect them anywhere near you. Probably shouldn't have sat down to play cards with that pale chap in a top hat who came to visit your town with a pretty, dark-skinned girl and a pet crocodile. But who knows. With enough skill, and a dash of luck, you might just beat these dark sorcerers in front of you – and make off with their card pack of Wilds to use them for your own means.
Maji Wilds offers gamblers a 5×4 playing field with 50 fixed paylines. But as we mentioned before, the real stars of the show are the five different cards, which act as Wilds. There's no free spins in this game, instead, all of its bonuses go through the deck. When the deck lands on the playing field, it can reveal one of five things. Regular Wild that simply replaces any other symbol, Ghost Wild that possesses random symbols and creates more of itself, Snake Wild which slithers over the reels and transforms all icons in its path into new Snake Wilds, Voodoo Doll Wild which remains pinned in place for five turns, and Skull Wild which increases its multiplier each turn until you score a win, up to a maximum of 5x. No doubt a wide variety of special features that Playtech's willing to offer to the prospective warlocks in the audience looking to play with a deck of enchanted and possibly cursed cards. But no good story ever began without taking a risk and diving into the unknown.
How to Play Maji Wilds
While the slot is obviously all about dark magic, voodoo, and many things unnatural and horrifying, the art style is rather obviously cartoonish and amusing rather than creepy. Don't get us wrong, it looks good – the dark skinned witch, for example, looks properly menacing and there's just something creepy about that undead in a top hat. But, for example, the skulls look like they'd belong to some less than brilliant skeletal minions that would doubtless muck up any order you give them, and not to mention, all the card icons look positively gorgeous, alongside some great looking animations when they perform their special features. The only thing we're not big fans of are the letters, although we admire the fact they're made out of bones to fit in with the rest of the game.
On the gameplay side of things, Maji Wilds is all about Wilds. It's the only feature Playtech's release offers and it very heavily relies on it. You don't really notice it until a decent sized win occurs and Wilds become less frequent, but the title is very bland without their presence. After playing for a while, we're rather inclined to pin this slot as a low volatility title. The wins are frequent, but small, and while big wins are possible, they're rather unlikely.
Jackpots & Progressives
There're no progressive jackpots in Maji Wilds. Instead, all the big wins come from good positioning and timing with Wilds. From our personal experience, Snake Wild and the Ghost Wild were some of the best earners. Pinned Wild seems good on paper, but it rarely seemed to find itself in a good position to really maximise it, while the multiplier Wild just never seemed to appear for us. Your experience might differ from ours, but if we were you, we'd be looking for those snakes.
Bonus Games & Sign-ups
Beyond the already mentioned special features, there are no other bonuses in Maji Wilds.
Game Screenshots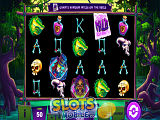 Where to Play Maji Wilds
You might also be interested in these articles