Mobile Slots
Games
Legacy of the Wild on Mobile
Home
> Legacy of the Wild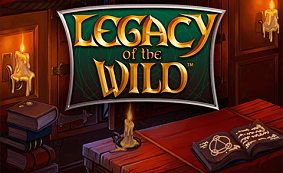 | | |
| --- | --- |
| Provider: | Playtech |
| Paylines: | 40 |
| Scatter Symbol: | No |
| Jackpot: | Yes |
| | |
Where to Play Legacy of the Wild
Legacy of the Wild Mobile Slot Review

We're not sure exactly how this snuck under our radar so far, but we have to hand it to Playtech, they know how to intrigue us. Although Legacy of the Wild sounds fantasy related, we didn't stumble upon any source material, as it seems the slot is entirely new and comes from the developers themselves. As such, not much that we know in terms of what's going on on the reels, but the name tells you one half of the story. Wilds play a big role and expand across the playing field to increase your odds of victory. This is paired with a 5×4 reel set that has symbols falling away when part of a winning combination, to be replaced by others. This is the core loop of the game and we can't deny it's damn satisfying.
Visually, there's nothing much to talk about. It has a few animations, but they aren't that breathtaking while the portraits are nicely stylised, if a bit too on the nose about what sort of role such characters would play in the story, such as knock off Gandalf with his hat and beard. Despite this, the Playtech's release keeps you on your toes with little touches. The way the symbols crumble aside and new ones fall on top of them. The pause and increased beat of music a few seconds after triggering free spins to build suspense. Small things like that really carry things forward.
Forgoing Scatters in entirety, Legacy of the Wild confidently trusts the rolling reels system to keep players interested. Each time a winning combination occurs, those icons disappear, and new ones fall on top. It also bumps up the counter on the left side by one, and the more wins are chained together, the higher it climbs, and if it gets past five wins in a row, you unlock free spins. If you manage to chain even more wins, the amount of free spins climbs higher, so you could have anything from 8 up to whopping 50.
Wilds also work on the same system. They start off occupying just one spot on the reels, and as the counter goes up, so does the amount of spots it takes up, up to a maximum of five. This just increases the value of these Wilds, making them a lot more lucrative, especially after a few wins chain together already.
How to Play Legacy of the Wild
The interesting system put into place makes this slot stand out among other competitors, and while it isn't the first to do such a thing, it does to it rather well. The main goal is to break past the trouble of chaining the first five wins together, after which the process becomes much simpler with Wilds expanding. In fact, you will more or less have to rely on Wilds to start things off as well, given that it is difficult to get that ball rolling at first. After it starts, however, you're usually in for a solid win, ranging from about 50 to 100 times your wager.
As such, you can play it for $0.40 up to $120, which gives enough leeway for gamblers to play it as their budget permits. As such, how much you spend and win will usually depend on how high you set this, and do make sure you can afford it, as it can take a while for all the stars to line up to get that solid win rolling.
Jackpots & Progressives
There's no progressive jackpot at play, which is fine by our accounts. This is a low to medium variance game, depending on how luck serves you, and it's fun enough without needing the extra dangling carrot to get you to play through it.
It should be noted a fair bit of your wins can end up paying less than what you bet, but it usually balances out with small wins, and the eventual larger win that will put you above what you started with, in our experience.
Bonus Games & Sign-ups
There's no bonus game or additional free spins bonuses included here. Legacy of the Wild only offers the bonus turns if you manage to chain together wins.
Game Screenshots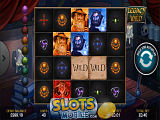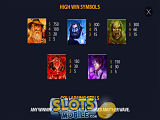 Where to Play Legacy of the Wild
You might also be interested in these articles