Mobile Slots
Games
Leagues of Fortune on Mobile
Home
> Leagues of Fortune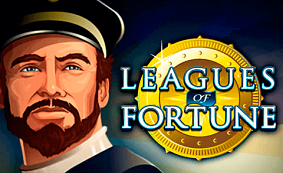 | | |
| --- | --- |
| Provider: | Microgaming |
| Paylines: | 1024 |
| Scatter Symbol: | Yes |
| Jackpot: | Yes |
| | |
Where to Play Leagues of Fortune
Leagues of Fortune Mobile Slot Review

The deep, blue sea hides a great deal of treasures – and those with enough guts to set sail may find a great deal of lost loot to bring home. That said, sometimes, it is not all about loot. Sometimes, you need to take revenge on that blasted whale. Undertake an adventure with Captain Nemo, as you take a dive beneath the rippling waves, search for old, forgotten treasure chests of long sunk ships, and keep an eye out for the giant squid that will try crushing your vessel. However, if you make it out and live to tell the tale, you may reap massive rewards!
The game offers 5 reels and 1024 ways you can take home the prize. It has a balance that most gamblers will be familiar with, as you go through small wins and losses until you hit a feature, of which there are two. The first is a familiar sight in slots, which is a free spin round activated by getting three or more Scatters at once on the reels. For the duration of these spins, all wins have a 5x multiplier, and you can get additional prizes thanks to the giant squid's tentacle which chases your ship around. The second is a gambling feature, which allows you to gamble a certain portion of what you've won. Rather than being a flat chance either way, Leagues of Fortune allows you to customise your odds, allowing you to play it safe and win less, or risk more to win more.
How to Play Leagues of Fortune
Given it is now five or six years old, we can't really hold it to the same standard as we do modern titles. For 2012, these visuals are more than acceptable. The animations can feel a bit stiff at times, but the portraits and backdrop both look nice. The symbols are a mixture of unique icons and poker cards. The user interface is also nice, fitting well with the rest of the theme. Just make sure to press the Expert button to get additional options and Autoplay.
That said, it doesn't really have much that helps it stand out outside of its special features. If you don't mind having a grind to get to those larger, juicy wins, this will suit you fine, but we have to admit, seeing numbers falling down over and over isn't the greatest thing. Wilds occasionally make an appearance to break this up on occasion, and the fact they come stacked is a nice touch, but it doesn't change the tide going against you. As it is, Leagues of Fortune feels like a race to get to the free spins before you're too deep in the red to recover.
Jackpots & Progressives
It doesn't have a progressive jackpot, but it certainly has an impressive theoretical upper limit. We doubt anyone's going to be reaching it, but it's nice to dream. To get to it, you need plenty of free spins, the extra prizes that come from the squid's tentacle, and that all accounts for the 5x multiplier as well. It really shows how dependant Leagues of Fortune is to the special feature. If you don't get a good win out of it, you're probably in trouble.
Bonus Games & Sign-ups
Beyond the free spins, there's only the gamble feature that really stood out to us. It boils down to a point and click game, as each spin is trying your luck, but you can set up your own odds. You can choose to play it safer by expanding the blue area, which will result in a win, or you can make the red area larger, which means you have a bigger win on your hands, but your odds of losing are far more likely.
Game Screenshots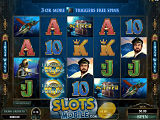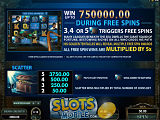 Where to Play Leagues of Fortune
You might also be interested in these articles