Mobile Slots
Games
Kung Fu Rooster on Mobile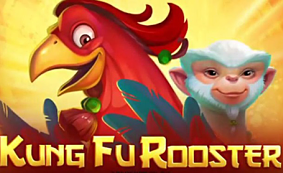 | | |
| --- | --- |
| Provider: | RTG |
| Paylines: | 12 |
| Scatter Symbol: | Yes |
| Jackpot: | Yes |
| | |
Where to Play Kung Fu Rooster
Kung Fu Rooster Mobile Slot Review

Another slot for the oriental market by RTG Kung Fu Rooster hits all the important notes for a game that's no doubt made for the Chinese to enjoy. Specifically stylised visuals and graphics, the inclusion of the number 8 in the wagers because it signifies good luck, that Zen-harmonious melody for a soundtrack, it's all so familiar and at the same time, oddly interesting at the same time. We're not sure exactly what it is about this release by RTG that's drawn us in visually, but for some reason, we quite enjoy it.
It offers 5 reels and 12 paylines, a rather different mix than the usual fare. It offers a single special feature, and we're impressed just how different a free spin can be each time when it comes to this developer. If you get at least three Scatters adjacent to one another, it forms a win and awards a cash prize. The free spins bonus afterwards can go up as high as 25 spins, which works well when paired with the Fire Claw multiplier, which means that each spin bumps up the multiplier by one. So theoretically, you could have a 25x multiplier if you got 25 free spins, though how many spins you get is no indication on how big of a win you'll score – it just improves your odds.
How to Play Kung Fu Rooster
Honestly, the graphics here aren't that mind blowing, nor are they anything new. Everything you've seen in this slot you've probably already seen in many other games meant for the Chinese market. And yet, they're oddly appealing to us as we play through the title. We're not sure if it's simply the whole picture brought together that appeals to us, or if RTG has snuck in and hypnotised us to like it, but there's something really pristine and serene about the whole thing. It's great.
On the gameplay front, it sticks to a familiar formula for the developer. A fair bit of annoyance until the free spins come in, at which point redemption is at hand, and you usually dig yourself out of a hole and earn a tidy profit to boot. It puts Kung Fu Rooster at a comfortable medium variance, as it is solely dependent on that one bonus to make it work. Some gamblers will loathe that sort of thing, while we imagine others will enjoy the thrill.
Jackpots & Progressives
With no progressive jackpots around, you're going to spend a lot of time spinning in hopes of those extra turns and the Fire Claw special feature involved with it. While you'll see some small to medium wins in the base game, with our highest being about 15x stake, it simply cannot compare to the free spins which can reach much higher. In our case, the biggest win we've seen was a 77x wager on 6 free spins.
Which really goes to show that while you can potentially get a lot of extra turns, they aren't guarantee that they'll pan out that well. Our experience with the title gave us the biggest wins when we had the lowest amount of free spins, though it doesn't really seem to be a rule – more so a coincidence as to how it all panned out. We personally like it, as it adds that little bit of unexpected surprise, as a big number of free spins doesn't have to mean a massive win.
Bonus Games & Sign-ups
However, that is the only special feature the title offers players. It works out just fine, though we imagine some gamblers might be starved for a little bit more choice in the matter. But if you don't mind one well done special feature over a few half-baked ones, give it a try.
Game Screenshots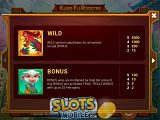 Where to Play Kung Fu Rooster
You might also be interested in these articles