Mobile Slots
Games
Jurassic World on Mobile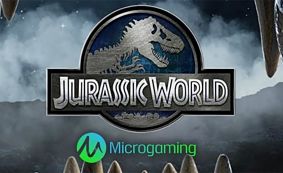 | | |
| --- | --- |
| Provider: | Microgaming |
| Paylines: | 243 |
| Scatter Symbol: | Yes |
| Jackpot: | Yes |
| | |
Where to Play Jurassic World
Jurassic World Mobile Slot Review

As the movie captured the imaginations of many, a fair few of us were waiting to see who would have the honours of releasing the tie-in slot and how it would turn out. It turns out that it was Microgaming that received that honour and it looks promising from the start. Wilds that can stack to a massive amount, Scatters that can transform into Wilds, three different free spins bonuses, and, of course, the Indominus Rex who can boost the players' multiplier up to a maximum of 1,000x their wager. However, for all the goodies, it brings with it the usual baggage that's associated with the developer, the most prominent being a paytable that could make you cry. But for the first time in a while, it might just be worth it.
It's nothing spectacular to look at. Being a licensed game, it naturally shows off the actors and various dinosaurs straight from the movie, with small clips playing on wins instead of proper animations. While it's all working fine now, there were issues with the sound at the launch, although gamblers will be happy enough to hear that those issues have been sorted out entirely, but on one of the bigger releases of the year, it should have been sorted out.
Scatters are the mosquitoes locked in sap and are used to activate the free spins special feature. You are randomly awarded one of three different bonuses, until your 15th trigger, at which point you are allowed to choose. This obviously carries Microgaming's intention to keep you spinning and playing for a long while, but sadly, the special features don't happen often enough for this to be a feasible bonus for a lot of people. As such, the triggers need to happen more often, or the number of activations needs to be lowered.
Meanwhile, Wilds don't offer that much in terms of interest. They can appear stacked, which is a rare but enjoyable treat. Another interesting little detail is that two Scatters which appear at the same time transform into Wilds, although they doesn't guarantee a win, which can be an issue considering a fair amount of dead spins that happen.
How to Play Jurassic World
All these bonuses can clash against the paytable something fierce. Even when they do trigger, their wins can be outright disappointing, and there are a fair amount of times that the slot can just suck out your money really fast, especially if you're playing with quick spin on. This feels like an oversight in some areas, as it might have just been our bad luck, but it seems like Jurassic World is more primed towards activating more special features, or is just balanced around the random appearance of the Indominus, but it didn't quite prove to be as satisfying as we had hoped it would be. Then again, Microgaming has been somewhat infamous about mucking up sure things for the last two or so years.
You can play it for $0.30 up to $7.20 by adjusting your coin size and bet level. We can at least confirm that the developers have had enough sense to not allow gamblers to bet too high. While it will probably annoy high rollers who like to spend a lot of money, with how quickly the game can go through your money, players might get more than a bit grumpy if you could bet big sums.
Jackpots & Progressives
Jurassic World doesn't offer progressive jackpots, wanting instead for you to focus on the special features and the Indominus random bonus. However, the issue is that none of these really feel properly rewarding. The Indominus is the only one that really feels like it stands out, and that is due to the fact it is a raw win, rather than relying on the awful paytable Microgaming put into the slot.
Still, from time to time you can get a massive win that will usually bounce you back to the same level that you used to be on, and sometimes even getting you above what you started. However, it does take a while.
Bonus Games & Sign-ups
As we already mentioned, the free spins have three different versions. The first is a multiplier increase each time you have a dead spin, and is then activated and spent on the first win afterwards. The second one implements Rolling Reels into the game where winning icons disappear and can chain together. To top it off, Wilds stay on the reels for 3 turns. The third turns all Scatters into Wilds, and remain in place until they award additional free spins. All of these bonuses reward 10 free spins.
Game Screenshots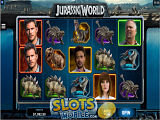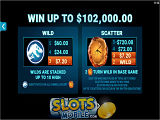 Where to Play Jurassic World
You might also be interested in these articles