Mobile Slots
Games
Jumbo Joker on Mobile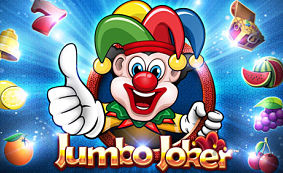 | | |
| --- | --- |
| Provider: | BetSoft |
| Paylines: | 5 |
| Scatter Symbol: | No |
| Jackpot: | Yes |
| | |
Where to Play Jumbo Joker
Jumbo Joker Mobile Slot Review

There's a special place in everyone's heart for 3-reel slots. For a great deal of us here in SlotsMobile, physical machines with 3 reels were how we took our first steps into the gambling world, and a fair few of us still enjoy playing them today, though we can't say we haven't been spoiled by all the vast amounts of choice that the modern market offers us with special features, unique reel structures and various other ways that companies try to grab our attention. And yet, it seems like most of that effort has gone into 5-reel slots, leaving 3-reel titles as somewhat of a red-headed stepchild, home to only simple gameplay, with maybe one or two special features to spice things up.
Betsoft seems to be taking a leap forward with that, in an effort to break up the monotony of a regular 3-reel game. Instead, you play on two sets of reels in their newest release – the first of which simple takes money from your budget. The second, upper reel, on the other hand, only functions off of what you've won instead, and has several incentives to get you to bet your winnings as high as possible. Without any other bonuses to get in the way, this laser focus on a single, core gameplay function makes for a pretty fun release.
How to Play Jumbo Joker
There's not a lot to graphically impress people, and for once, it's not because the mobile versions will usually lag a bit behind their desktop counterparts. It's more due to the fact that there's simply not that much to show off in the first place. Like a lot of other 3-reel slots, Jumbo Joker has gone with emulating the look, feel, and annoying sound of a physical machine, with admittedly, more bells and whistles. The user interface was rather well done in our minds, as it relayed all the important information to the gambler, using the lighting to make sure you're aware what options are available to you while you're choosing your wagers.
And speaking of wagers, we can already imagine some gamblers won't feel particularly thrilled to have to bet a lot of cash to unlock the incentives. To circumvent this, Betsoft performed a rather sneaky trick. There's only one 'mandatory' price hike, and that's to play with ten coins in order to unlock all 5 paylines instead of just one. But everything else after that is paid for by your winnings, and it's an exercise of when to collect and when to keep trying for more. It is far easier to justify paying more coins for a guaranteed stacked symbol when you're not paying directly out of your budget – but instead, you're paying with what might have been a neat addition to your budget, instead.
Jackpots & Progressives
The Betsoft's release doesn't feel restricted because of this. It's certainly very random and volatile about how it distributes the winnings, but there's no fast road to the jackpot with this one. The fact that the Joker itself can pay a random amount makes it an unpredictable icon to form wins with, but the potential for some solid scores is always there, lurking in the background. There is no progressive jackpots you will need to worry about, which just seems to continue Jumbo Joker's commitment to that core gameplay. Ultimately, it works in equal measures as both a cash sink and a big payout, and there's nothing you can do about it except hope for the best.
Bonus Games & Sign-ups
Apart from the double reels, however, there are really no actual special features in this game. While betting higher amounts can earn you bigger wins or even stacked symbols on one or all three reels, they don't really work as proper bonuses.
Game Screenshots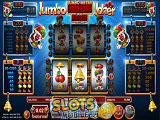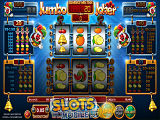 Where to Play Jumbo Joker
You might also be interested in these articles