Mobile Slots
Games
Joker's Jewels on Mobile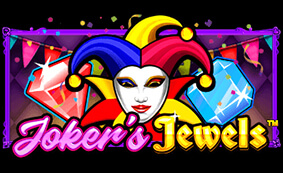 | | |
| --- | --- |
| Provider: | Pragmatic Play |
| Paylines: | 5 |
| Scatter Symbol: | No |
| Jackpot: | Yes |
| | |
Where to Play Joker's Jewels
Joker's Jewels Mobile Slot Review

For some people, new things are simply a waste of time. Things were always better back in the good old days and all this new stuff is silly and stupid. We're not ones to argue that some things may have been better in the olden days, but in the grand scheme of things, progress has always been more positive than negative and trying to blindly stop it has never worked out for anyone. Slots followed much the same example. From their first iterations that had small reels, one single payline and no bonuses whatsoever, we slowly began to see things shifting, as slot makers did their best to attract players, and the most successful gimmicks became staples of the genre. Free spins, a 5×3 playing field, more paylines, Wilds and additional features – players showed they liked these things, and companies provided accordingly.
It seems, however, that some players would rather go back to the olden days for some reason. Joker's Jewels is living proof of that. This Pragmatic Play release is played on a 5×3 playing field with a minuscule 5 paylines, and it offers nothing to players. No Wilds, no free spins, no special feature at all. Instead, players will stick to pressing one button over and over and hoping that a win lands. It's slot gameplay at its core simplicity, paired with the advantages of modern convenience – being able to lean back at home and spin to your heart's content instead of sitting in front of a bulky physical machine. If you missed that feeling too, have no fear, because the user interface and backdrop were both designed to look like a physical slot machine.
How to play Joker's Jewels
There's no denying that this game looks gorgeous. The reels are huge, and even on mobile versions, you still have the payline displayed at all times to show you what your wins will be like. Despite this, you still have a very clear vision of the reels at all times – they aren't too small, even on phones that usually suffer from their size hampering the experience. The symbols are also well drawn, even if they aren't particularly imaginative. There's no story or central theme to the whole thing – it really does boil down to spin and win, with no further depth added to the mixture. And yet, there's no denying we feel distaste taking a look at this title, and its blatant attempt to copy physical machines right down to the annoying sounds and glowing reels. We don't like it, we never have, and we doubt we will.
But we can get over the fact slots will try and emulate physical machines in graphics. It can provide a more immersive experience to someone hoping for a Vegas playstyle, it's not our place to judge. It's when slots walk back on the progress made since those first physical machines were made that really annoys us. There's nothing wrong with wanting a simpler game, but accepting to play bigger reels with only five paylines, no Wilds or any special features is essentially a quick path to make a fool out of yourself. The title has a supposed 96.5% RTP, and after playing for a bit, we're inclined to agree with it, but not even a 100% RTP can make up for how boring it is to play.
Jackpots & Progressives
The thing is, Pragmatic knows how to draw in the crowd. Those physical machines of old supplemented their flaws by offering massive jackpots that most gamblers would never reach. This really hasn't changed even after all these years, so now when we circled back to Joker's Jewels emulating older slots, the idea of a 5,000x jackpot will draw in many players.
Bonus Games & Sign-ups
There are no special features in Joker's Jewels.
Game Screenshots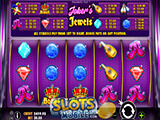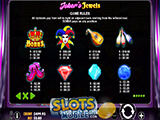 Where to Play Joker's Jewels
You might also be interested in these articles