Mobile Slots
Games
Irish Charms on Mobile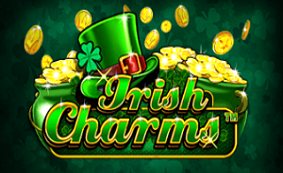 | | |
| --- | --- |
| Provider: | TopGame |
| Paylines: | 3 |
| Scatter Symbol: | Yes |
| Jackpot: | Yes |
| | |
Where to Play Irish Charms
Irish Charms Mobile Slot Review
It feels like in the sea of growing paylines and massing special features, we have moved away from the old days of sitting in a betting joint and spinning actual, physical reels. Back when slots looked simple and gameplay was very basic. Irish Charms really brings us back to those days of playing old games in a smoky room someplace, with half-annoying half-exciting noises coming from the machine as each spin has the potential to make you feel a wide range of emotions in a span of a few seconds. For better or worse, slots have changed, but if you want a little trip of nostalgia, come along for the ride!
As you probably guessed from the name, the game has a strong Irish theme. And it's not Ireland if there aren't pints of beer, four-leaf clovers, green hats and pots of gold lying about the admittedly small playing field. The icon art looks fine, but feels dated, like the rest of this slot.
Because Irish Charms doesn't believe in special features. You take your Wilds and Scatters and you're happy you even got them. Scatters come in the shape of beer mugs, and they award a win no matter where they land. They actually appear quite often, minimising the amount of money you lose each spin, offering a good consolation prize.
Wilds are the real deal in this game. When you have a 3×3 playing field with 3 paylines in total, every spot on the reels is important, and even just one Wild is enough to change a loss into a win in that case. Wilds are also the largest earners in the slot, as getting a full grid of Wilds will award you a massive win.
How to Play Irish Charms
It is clear that the developers in Pragmatic Play wanted to evoke that nostalgic feeling of old games from back in the day. The simplistic design quite reminds us of slot machines that used to be present in old gambling dens, or in some less savoury pubs. The minor details are all there, right down to the annoying sound design and the constant ticking of a highlighted win as the game tries to pressure you to keep going for more.
That said, considering the small amount of reels and paylines, Irish Charms has a rather impressive betting range, which goes from $0.01 to $15. The developer wanted to make this accessible to the lower end market, and it shows, as we imagine that high rollers probably won't be too excited with this slot, considering it doesn't have any special features or overindulgent wins to work with.
Jackpots & Progressives
There is no progressive jackpot either. This is all about the pure gameplay, spinning reels until you win a prize, or go home broke. This is great for some, not so much for others. Games have evolved into being more user friendly as the years went on, which may make this feel a bit out of touch for someone new who wants to give this a try.
That said, there are some decent jackpots to be won here. Most of any combination is enough to get your money back, but with only three reels in play, getting any win can be tough that isn't a single Scatter. But the very top of the ladder, with a full reel of Wilds, Irish Charms is happy to award $3,000 for your troubles. The odds are stacked against you, but if you're stubborn enough, you might just make it happen.
Bonus Games & Sign-ups
You only work with what the slot gives you. Wilds and Scatters are about as much help as you can expect here, as nothing else has been implemented to aid the player in winning. No free spins, full-reel Wilds or bonus icons are around in this game. Ultimately, it depends of you prefer the old school way of playing, or if modern conveniences have spoiled you like they have us.
Game Screenshots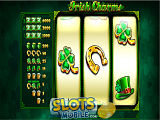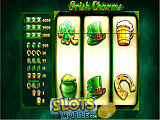 Where to Play Irish Charms
You might also be interested in these articles