Mobile Slots
Games
Hologram Wilds on Mobile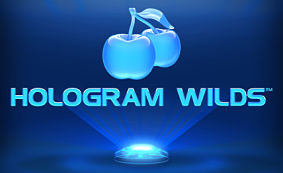 | | |
| --- | --- |
| Provider: | Playtech |
| Paylines: | 40 |
| Scatter Symbol: | Yes |
| Jackpot: | Yes |
| | |
Where to Play Hologram Wilds
Hologram Wilds Mobile Slot Review

Welcome to the future! We're not quite sure what we can quite expect there, but we've been fond of imagining certain things. Flying cars, space travel, and of course, holograms! Usually, they've been reserved for fancy communications, being able to look at the full figure of someone else in a light blue colour while you talk to them – but this time around, the technology of the future is simply used to make a slot. Playtech devised a game based around the theme, so you'll be staring at the soft hue of holographic fruits and lucky sevens, in what we can describe as a retro-futuristic aesthetic as it calls back to old slot machines while using a futuristic hologram look.
But, as you might imagine, just sticking to one colour isn't that fun, no matter how futuristic you make it look. Instead, when symbols become part of a winning combination, they highlight in their intended colour. Cherries turn red, apples turn green, and so on. The only one that breaks this theme is the crown, which is used to highlight Scatters, as it immediately appears with a golden hue. It all looks smooth and there's nothing wrong with the graphics. But it does feel a bit boring and lacking in colour, despite the occasional burst shining through.
Scatters are the highlight of Hologram Wilds, and we don't mean that just because they bring a bit of colour. They activate the only special feature present on the reels, which are 5 free spins when Scatters appear simultaneously on the second, third and fourth reel. While the extra turns are going, you have more Wilds appearing on the playing field, and they can theoretically be retriggered indefinitely by adding five more spins, then five more by getting Scatters in the right position.
Even without the free spins, however, Wilds are somewhat common to see on the playing field. They bring the ultimate prize of 25x your wager for a five-of-a-kind win, which is a rare sight to behold.
How to Play Hologram Wilds
A large selling point to this slot was the promise of potentially endless free spins. However, given how this game operates, you'd be lucky to see them pop up at all. Playtech decided to emulate old slot machines while making this futuristic game, and not just visually. Instead, the mechanic of high volatility was introduced to keep players spinning, as it will take a while before the right stars align to make a massive score you can take home and feel proud about.
As such, you should know what you're getting into when you decide to play Hologram Wilds. It may take a while for your wins to really get anywhere at all, and you'll certainly feel the sting in your wallet if you play it on turbo mode, where the action flows super fast. You can play this title for $0.40 up to a maximum of $16 per spin.
Jackpots & Progressives
There's no progressive jackpot in Hologram Wilds, but the slot still has its fair share of surprises. From our time playing, it's clear that free spins are the key to getting anywhere. However, after a lot of spins, we haven't managed to line up the Scatters just right, and our largest score was 17x our wager, so we can't say we've done ourselves too proud with this game. Still, it was a moderately fun experience, even if it could use a bit of polishing.
Bonus Games & Sign-ups
And outside of the free spins, there's nothing else in terms of bonuses. Which is a crying shame, as we feel a small bonus here or there might have done wonders to break up the monotony that comes with high volatility slots.
Game Screenshots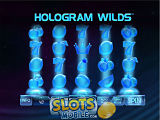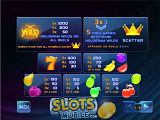 Where to Play Hologram Wilds
You might also be interested in these articles