Mobile Slots
Games
Holly Jolly Penguins on Mobile
Home
> Holly Jolly Penguins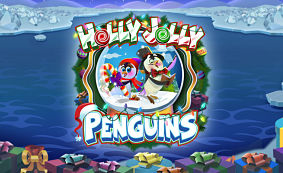 Slots Features
Slots Game:
Holly Jolly Penguins
Reels:
5
Wild Symbol:
Yes
Max Bet:
500 coins
Rating:
| | |
| --- | --- |
| Provider: | Microgaming |
| Paylines: | 45 |
| Scatter Symbol: | Yes |
| Jackpot: | Yes |
| | |
Where to Play Holly Jolly Penguins
Holly Jolly Penguins Mobile Slot Review

When the slew of snowy winter wonderlands hits our favourite slots, we know the year is slowly drawing to a close. And for December 2017, apart from Highlander, Microgaming also decided to put forward some more offerings to the gamblers waiting for the newest release to sink their teeth into. The offering is Holly Jolly Penguins, which is, of course, about penguins, the true epitome of an animal most people associate with the winter holidays. Well, maybe that's not exactly right, but they've got cute hats on and they seem to be in a festive mood. That counts for something right?
At any rate, it offers gamblers 5 reels and 45 paylines, with various paying symbols, a free spins special feature that demands Scatters sit adjacent to each other. Bit strict, but it also allows for double Scatters to appear on the second and third reel. Having two Scatters on the second reel and also as part of a free spins score means the amount of turns will double, and if you have two Scatters at the same time in the second and third reel when the free spins are activated, the amount of turns is quadrupled, so you could get a maximum of about 80 free spins. Alongside this, you also have two different Wilds that can pay out well enough, and while they can mix with each other, it lowers the amount of money they pay out. And if all of this sounds familiar to you, it should. Because Holly Jolly Penguins is the Christmas skin for the Heat is On – which in turn, was a cops and robbers skin for Oink Country Love. A clone of a clone! Microgaming must have broken a world record here.
How to Play Holly Jolly Penguins
The visuals are decent, but hardly mind blowing. The penguins are cute, and they have a bit of personality and spunk to them, but there's not really that much that makes them pop out. The fact they've cloned the gameplay from other titles and the fact the visuals here aren't the best that Microgaming can put together makes us think this is more a filler slot meant for padding numbers rather than any serious effort to woo in customers.
On the gameplay front, it's very reliant on the free spins to get things going, and that can take a while. In the meantime, prepare to be beset over and over by three Scatter wins that at least have the decency to pay the same amount as your wager as the game keeps showing just how close you came to getting those free spins. Better luck next spin! We already mentioned this in an earlier review of Renegades, but there's a fine point where a tease becomes an annoyance, and we feel that Holly Jolly Penguins and its Scatter traverse from the first into the second very quickly.
Jackpots & Progressives
There's no progressive jackpot to be found hiding in the snow while hanging out with the penguins, but you could occasionally stumble into a good win or two if you get really lucky. This game is a clone of The Heat is On and Oink Country Love, and both of those mixed high variance gameplay with low variance payouts for the most part. But every so often, all the stars align and you can get a really good win out of it. It doesn't redeem things entirely, but it goes at least part of the way in avoiding our total ire. Still, we feel like Microgaming could have done better than to put forward a cloned game for the holidays.
Bonus Games & Sign-ups
Apart from the free spins bonus, there are no other special features that Holly Jolly Penguins offers.
Game Screenshots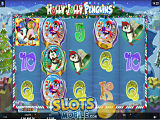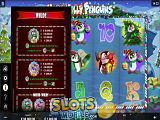 Where to Play Holly Jolly Penguins
You might also be interested in these articles